Description
Product Description
Custom Built. Lead time 4-6 weeks.
A Big Brake kit with 6 pot calipers and 380mm x 32mm ventilated discs. The discs are grooved to remove braking residuals and maintain optimum performance. Included in the kit are Forge braided brakes hoses, mountings, and brake pads.
Our brake lines are hand-finished with Teflon-lined braided stainless-steel bodies and custom-machined stainless fittings, resulting in a brake hose that will perform under the most extreme and harsh conditions, whilst still looking good and performing at the highest level.
The benefits of running Forge big brakes include:
Immediate brake pedal response
Lifetime Warranty (brake lines only)
Choice of colour
Reduces pedal sponginess under hard braking
Compatible with all brake fluids
Will not corrode (brake lines only)
This kit is suitable for Model 3 and Model Y, with 19" wheels or larger
This kit has been developed with EV Specialist Cleevely EV
This brake kit is supplied with either our Forge Ceramic Brake Pads (FMBKPAD) or EBC Yellow Pads. For further information on EBC pads please see EBC website.
Depending on your wheel design, you may need spacers between the hub and the wheel to clear the calipers. We have a stencil available for you to place behind your wheels to work out fitment. Please email Jamie@forgemotorsport.co.uk for further information
These kits do not have CE/TUV approval and are recommended for race use only
Each Caliper weighs 3.25kg
Each Disc weighs 9.35kg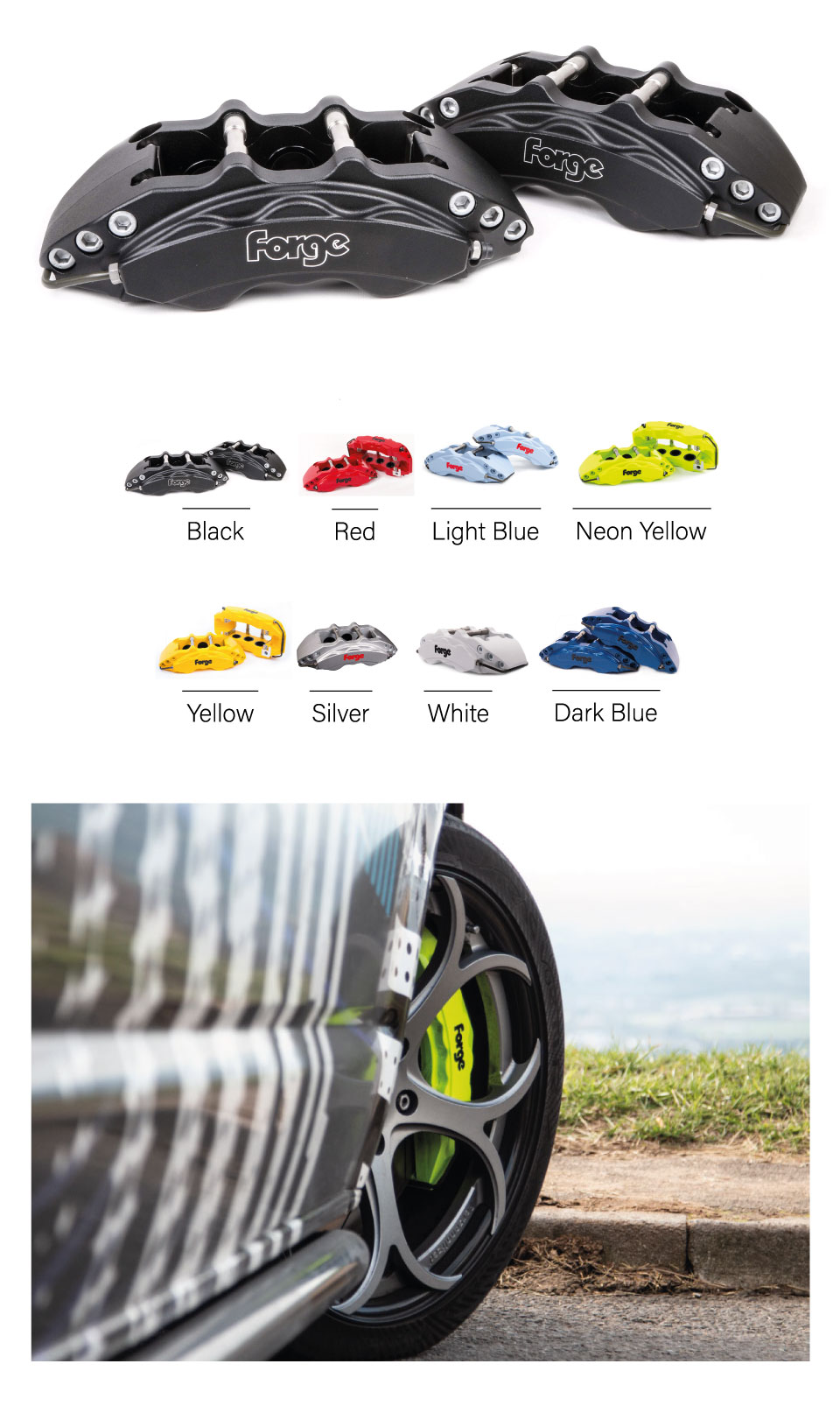 Please Note:

In line with our policy to constantly review, revise, and improve our product range, the appearance of the product you receive may differ from the one advertised.
Product Reviews
Product Reviews
Be the first to review this product
Want to leave a review?

Login Register FREE!
Compatible Vehicles
Instructions
Big Brake Kit for the Tesla Model 3 and Model Y
Warranty
Warranty Infomation
All Forge Motorsport products come with a limited lifetime warranty. All warranty claims must be accompanied by the original proof of purchase to enable us to help you. Failure to supply this proof will result in your claim or enquiry being denied.
For further information, please call our customer service team on +44(0)1452 380999 or email info@forgemotorsport.co.uk.
Do not use aggressive (acidic) car cleaning products, particularly traffic film remover solutions or shampoos to clean your intercooler, radiator or oil cooler. The use of these products can damage Forge Motorsport cooling systems and invalidate your warranty. These are often found at car washes. A light, warm, soapy solution (free of harsh acidic cleaning compounds) should be used to clean you cooler and thoroughly rinsed away. We recommend that you should inspect your product on a regular basis for bent and/or crushed fins. Any bent fins should be carefully straightened to allow ambient air to pass through the core face. At the time of installing your Forge radiator, an approved coolant must be used and added to the coolant system. Be sure you never mix coolant and always use distilled water.
Shipping
Shipping
USA Deliveries
All Deliveries are sent via Fedex. We cannot guarantee delivery timelines as all orders are up to shipper schedules and routes. Delivery fee is a Flat Rate of $20 fo all orders over $20. Orders below that value are costed out based on weight. Signature required may be added to your package. Orders can not be re-directed, held, or re-scheduled.
Shipping outside of the Lower 48- Duty Charge Information
All Forge products are sold with a Delivery Duty Unpaid (DDU) status and an import tariff may apply to your order. Customers will be contacted by the Customs and Excise authority in the destination country regarding payment prior to delivery, and it is important that correct contact telephone number and email information be submitted with the order to facilitate this part of the delivery process.

Our shipping methods ensure safe and timely delivery of your new Forge products. For further information on cost and delivery times, please contact Forge using the info@forgemotorsport.com email address if you require any more information. We reserve the right to change the delivery service and company at any time.
***Once a product has left our warehouse and is in the possession of the shipping company, any claims must be made directly with that shipper however we can assist with most cases.
Associated Products