Description
Product Description
This product is ideally fitted in conjunction with the product FMDV1 (1.2/1.4 TSI Dump valve and fitting kit). If purchased as a stand-alone product the turbo inlet hose will push up against the adjacent OE charge pipe, and a trim to the turbo inlet leg of the FMINDK14 induction hose may be required to avoid creasing.
Highlights
Part of the Forge Motorsport Hi-Flow range

Increases air flow and improves efficiency and performance

Up to 10 BHP gain

Strong, tight carbon fibre weave

Made from 100% carbon fibre with no fibre glass added

Formed by Autoclave Pre Preg

Easy installation

Flurosilicone lined hose

High flow cleanable airfilter with no need to ever replace

Includes our Forge Motorsport Limited Lifetime Warranty
This is the second product to be released in our new 'Hi-Flow' range. With this unique sleek design, you can expect to see a carbon fibre housing that flows beautifully along the engine bay, giving you more horse power and torque, and hopefully an appreciation for the care and time that has gone into the production. It includes a billet machined coupler made to exact tolerances at our machine shop in Gloucester, UK, ensuring a perfect fit.
The hose is available in red, blue or black and is supplied with all necessary hose clamps.
The Design
Following the success of our carbon fibre intake for the Mk7 Golf we knew that we wanted to continue with our 'Hi-Flow' range and bring out an affordable option to the 1.2/1.4 TSI market.
We conducted intense market research, speaking to tuners and owners of the vehicles we wanted the intake to fit. We concluded that rather than creating an entire carbon fibre intake system, the best product to create would be a carbon fibre scoop and airbox lid that fits with original airbox.
With this idea in mind we started the design. Using industrial foam and aluminium the concept design was created. With these components, we could identify the best way to fit the scoop, join it to the air box and mount it to the vehicle.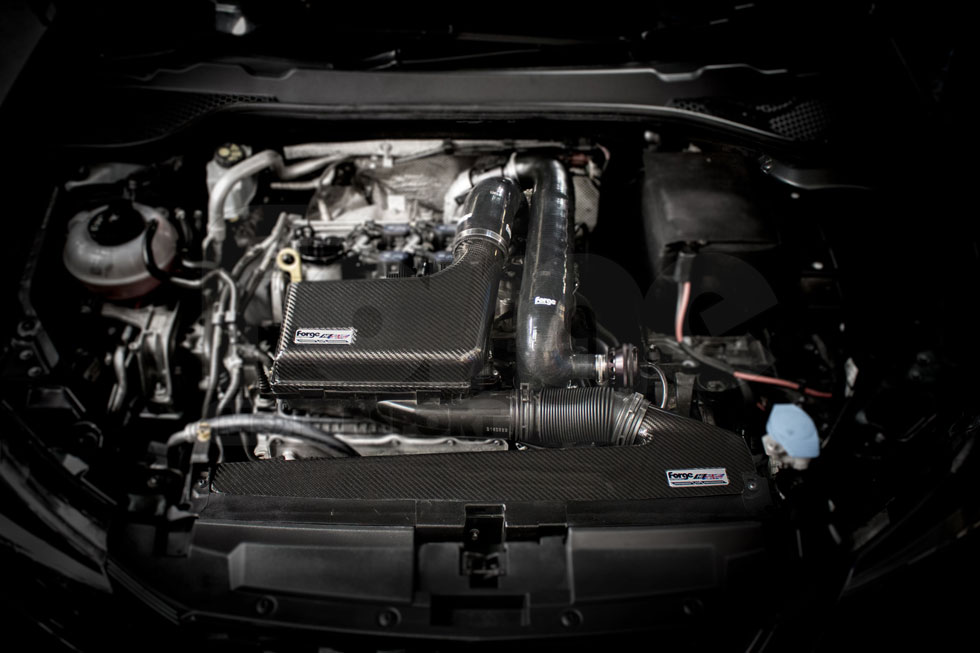 Once the first concept was completed our engineers used the latest technology to create a 3D rendering of how we wanted the intake to look. Throughout the drawing process we ran simulated air flow tests, this way we could ensure that we would create a product with the most efficient flow possible. The carbon fibre prototype was made and fitted to the vehicle. The design is one of the most aesthetically pleasing and practical on the market
To ensure we deliver the best quality product we could and following the extensive design and development of this intake, we enlisted the services of one the world's leading Carbon fibre manufacturers, who's products range from F1 aero, carbon fibre car bodies and aircraft wings! Tooling was then CNC machined from billet aluminium to ensure the finished product was flawless. This enables us to create a perfect airbox using the autoclave technique during the manufacturing process of the 2x2 twill carbon fibre.
Rather than using a vacuum (also known as liquid infusion) to draw the resin through the mould then pulling the raw carbon fibre cloth to the mould shape, a technique known as Autoclave is used in the manufacturing of this beautifully designed product. This involves the use of up to 10 bar of pressure that is blown into a 100% billet mould to force it out. This high amount of pressure ensures the material is fully in contact with the surface of the mould. Therefore, making sure the weave is tight, solid and strong; this process also ensures there are no imperfections in the product. The mould is then heated to cure the resin which in turn gives a tensile strength up to eight times stronger than mild steel but at a fraction of the weight. Having spent so much time on the carbon and silicone development we then turned to the equally important aspect of filtration.
Going with the Flow
With the lid and scoop design completed we moved on to the hose and filter. There is no point creating such an efficient system for it then to be restricted by the OEM hose and filter. Therefore, for the filter we engaged our partners and experts in Filtration Control, Pipercross!
With over 25 years' experience in both the domestic and motorsport market they recommended a multi-layer foam construction filter, these filters work perfectly in our 'Hi-Flow' range. The large filter provided, flows 30% more air than stock and fits snuggly within the housing. This combination is second to none.
The Forge Motorsport high flow intake hose that is mated to the carbon airbox eliminates the highly restrictive plastic and noise restricting inlet pipe, and replaces it with our smooth bore multi-ply silicone hose which increases air flow, improving efficiency and performance. This equates to increases of up to 10hp which is a remarkable gain for an easy to fit bolt on modification. The Forge silicone hose in this kit has been designed to include an expensive inner liner of modified silicone known as Fluorosilicone.
In the Box:
1x Forge Motorsport Hi-Flow, carbon fibre airbox lid
1x Forge Motorsport Hi-Flow, carbon fibre front scoop
1x Pipercross air filter
1x Meguiar's care pouch and Forge Motorsport Micro Fibre Cloth
1x larger bore high flow Silicone hose
1x USB with installation instructions.
*Before purchase and to ensure compatibility please check that your intake configuration is the same as the photograph.


Please note this product does not fit the Golf GTE Model, Please see FMINDK14-GTE.
*Please note - the Pipercross filter is excluded from the Forge lifetime warranty*
Please Note:

In line with our policy to constantly review, revise, and improve our product range, the appearance of the product you receive may differ from the one advertised.
Product Reviews
Product Reviews
Be the first to review this product
Want to leave a review?

Login Register FREE!
Compatible Vehicles
Instructions
1.2 & 1.4 TSI High Flow Carbon Intake (138 & 150 BHP)
Warranty
Warranty Infomation
All Forge Motorsport products come with a limited lifetime warranty. All warranty claims must be accompanied by the original proof of purchase to enable us to help you. Failure to supply this proof will result in your claim or enquiry being denied.
For further information, please call our customer service team on +44(0)1452 380999 or email info@forgemotorsport.co.uk.
Do not use aggressive (acidic) car cleaning products, particularly traffic film remover solutions or shampoos to clean your intercooler, radiator or oil cooler. The use of these products can damage Forge Motorsport cooling systems and invalidate your warranty. These are often found at car washes. A light, warm, soapy solution (free of harsh acidic cleaning compounds) should be used to clean you cooler and thoroughly rinsed away. We recommend that you should inspect your product on a regular basis for bent and/or crushed fins. Any bent fins should be carefully straightened to allow ambient air to pass through the core face. At the time of installing your Forge radiator, an approved coolant must be used and added to the coolant system. Be sure you never mix coolant and always use distilled water.
Shipping
Shipping
USA Deliveries
All Deliveries are sent via Fedex. We cannot guarantee delivery timelines as all orders are up to shipper schedules and routes. Delivery fee is a Flat Rate of $20 fo all orders over $20. Orders below that value are costed out based on weight. Signature required may be added to your package. Orders can not be re-directed, held, or re-scheduled.
Shipping outside of the Lower 48- Duty Charge Information
All Forge products are sold with a Delivery Duty Unpaid (DDU) status and an import tariff may apply to your order. Customers will be contacted by the Customs and Excise authority in the destination country regarding payment prior to delivery, and it is important that correct contact telephone number and email information be submitted with the order to facilitate this part of the delivery process.

Our shipping methods ensure safe and timely delivery of your new Forge products. For further information on cost and delivery times, please contact Forge using the info@forgemotorsport.com email address if you require any more information. We reserve the right to change the delivery service and company at any time.
***Once a product has left our warehouse and is in the possession of the shipping company, any claims must be made directly with that shipper however we can assist with most cases.