Team Forge

Sean Lyle – Forge USA Managing Director
Sean began his career at Forge in 2007 as member of the sales team. He has grown along with the company in the last 10 years, moving from a member of sales staff to sales manager, then to US Director in 2014. Having grown up around Corvettes he has always had a passion for cars and it led to him Forge after working in hospitality for almost 10 years. He can be found working most US shows answering customer questions and giving deals on product. He enjoys Cruising, enjoys a good beer and bourbon, and occasionally works on his own cars! Currently, Sean owns a 1970 VW Karmann Ghia, and 2013 S4 B8.5, and a Triumph Thunderbird Storm!
Matthew Bounds – Forge USA Customer Service
Matt has an extensive background in the European Car Community, with involvement in everything from Automotive Vehicle Builds to Car Show Design. You will find him behind the desk building marketing plans, on the phone with customers, and at our shows talking about the latest Forge Products. His experience dates back to retails sales and advertising from when ice was still being sold to Eskimos. He currently has a Mk1 Berg Cup Car among others, and enjoys modifying cars and spending time with his family.
Hana Deeb – Forge USA Accounting Department
Hana is the newest member of the Forge USA team. Hailing from New Jersey, she has a background in Accounting and Law. She has a zest for life, making people laugh and a strong work ethic that she takes pride in. Hana enjoys spending time with her family and friends, reading, working out, comedy shows, music concerts, and going to the beach or swimming. In the future, she hopes to travel more and check off her bucketlist. Currently, she owns a 2018 Mercedes C Class that she absolutely loves to drive!
Peter Miles - Managing Director of Forge Group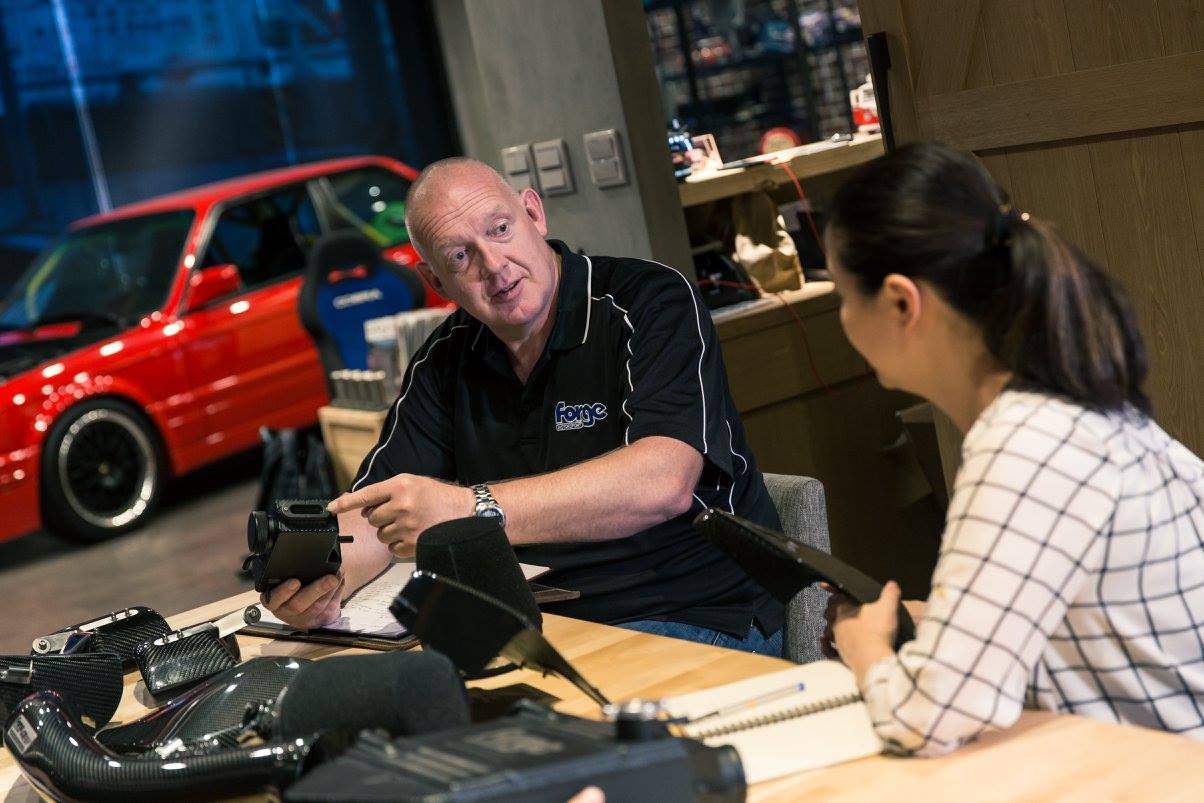 Peter joined the family business in 1994, and was a driving force behind the change from sub-contract engineering to Forge becoming one of the World's largest performance aftermarket suppliers. He is responsible for the Forge Group including the offices in Forge UK, USA, and Asia. As an ex aircraft engineer he likes to talk about his prowess in working on the undercarriage of many planes, although it's a miracle if any landed again! He is a keen sports fan, having played for Gloucester, Worcester, and Bath Rugby teams. Currently driving a VW Amarok, his most loved cars include the Triumph Stag and Lancia Stratos.