Description
Product Description
This kit has been designed to address the weakness of the stock oil cooler – the cooler fitted to your car from Audi is aluminium, but the fittings on the ends of the cooler hoses are steel. The result is corrosion between the two different metals which cracks the fittings over time, causing a slow oil leak that gets worse with age, and eventually ends in a catastrophic failure of the oil cooler lines - and if you are unlucky, the engine too.
Due to the corrosion setting in on the lines, they usually cannot be removed from the oil cooler without damaging it. This results in the need for the oil cooler and both lines to be replaced at a cost of over £1100 from the dealer, before you factor in consumables and labour to change the parts.
Our solution uses tried and test products. It is a full replacement right from the fitting on the engine block which is precision made from 6082 billet aluminium, and then anodised to prevent any possibility of corrosion.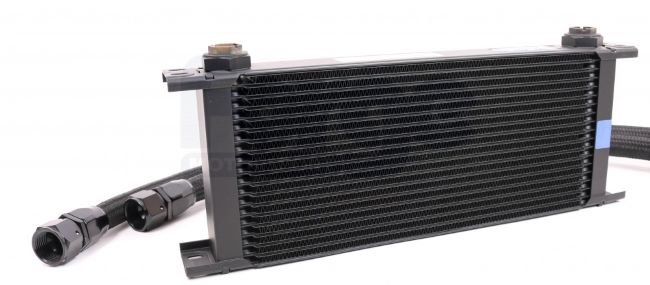 This fitting leads to -12 AN Hose Technik black anodised aluminium fittings on Hose Technik braided lines with black overbraid.
Cooling is accomplished by a 19 row Setrab oil cooler, the same manufacturer that supplies Audi and several F1 teams, again with a black finish. All the mating parts are similar materials and are tried and tested in Motorsport - there is no fear of corrosion affecting the fittings after a few years of use. The cooler is supported on a laser cut and powder coated frame that also holds the Audi fan control module in place. With everything finished in black, it makes for the ultimate stealth installation and unless you know what you are looking for, you won't see it.
The original remit of this replacement was to do away with all the troublesome Audi parts, which this kit accomplishes, but by relocating the oil cooler slightly higher than stock, we have also reduced the chances of damage from road debris.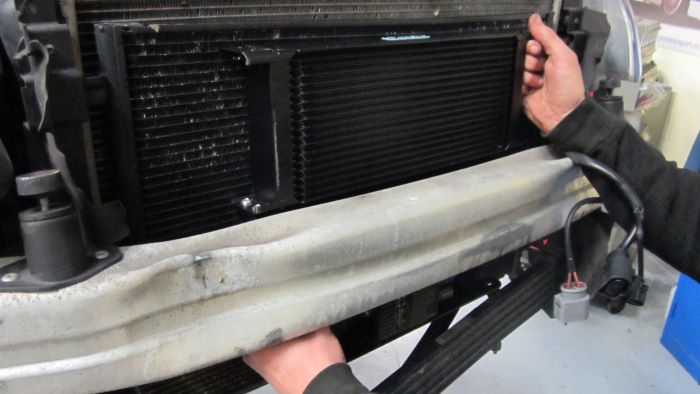 All parts needed for installation are included - bolts, nuts, washers, brackets, and full instructions, though you will need up to additional 2 litres of engine oil to account for the loss from removing your old oil cooler, and for filling the new cooler and lines.

Please Note:

In line with our policy to constantly review, revise, and improve our product range, the appearance of the product you receive may differ from the one advertised.
Product Reviews
Product Reviews
Be the first to review this product
Want to leave a review?

Login Register FREE!
Compatible Vehicles
Instructions
Engine Oil Cooler for the Audi RS4 4.2 (B7 2006-2008)
Warranty
Warranty Infomation
All Forge Motorsport products come with a limited lifetime warranty. All warranty claims must be accompanied by the original proof of purchase to enable us to help you. Failure to supply this proof will result in your claim or enquiry being denied.
For further information, please call our customer service team on +44(0)1452 380999 or email info@forgemotorsport.co.uk.
Do not use aggressive (acidic) car cleaning products, particularly traffic film remover solutions or shampoos to clean your intercooler, radiator or oil cooler. The use of these products can damage Forge Motorsport cooling systems and invalidate your warranty. These are often found at car washes. A light, warm, soapy solution (free of harsh acidic cleaning compounds) should be used to clean you cooler and thoroughly rinsed away. We recommend that you should inspect your product on a regular basis for bent and/or crushed fins. Any bent fins should be carefully straightened to allow ambient air to pass through the core face. At the time of installing your Forge radiator, an approved coolant must be used and added to the coolant system. Be sure you never mix coolant and always use distilled water.
Shipping
Shipping
USA Deliveries
All Deliveries are sent via Fedex. We cannot guarantee delivery timelines as all orders are up to shipper schedules and routes. Delivery fee is a Flat Rate of $20 fo all orders over $20. Orders below that value are costed out based on weight. Signature required may be added to your package. Orders can not be re-directed, held, or re-scheduled.
Shipping outside of the Lower 48- Duty Charge Information
All Forge products are sold with a Delivery Duty Unpaid (DDU) status and an import tariff may apply to your order. Customers will be contacted by the Customs and Excise authority in the destination country regarding payment prior to delivery, and it is important that correct contact telephone number and email information be submitted with the order to facilitate this part of the delivery process.

Our shipping methods ensure safe and timely delivery of your new Forge products. For further information on cost and delivery times, please contact Forge using the info@forgemotorsport.com email address if you require any more information. We reserve the right to change the delivery service and company at any time.
***Once a product has left our warehouse and is in the possession of the shipping company, any claims must be made directly with that shipper however we can assist with most cases.
Associated Products