Description
Product Description
These are the individual springs and shims sold in our FMWCSPK kit for our 44mm wastegate FMWCW1.
Please use the table below to find the part number required and then select it from the drop-down list above.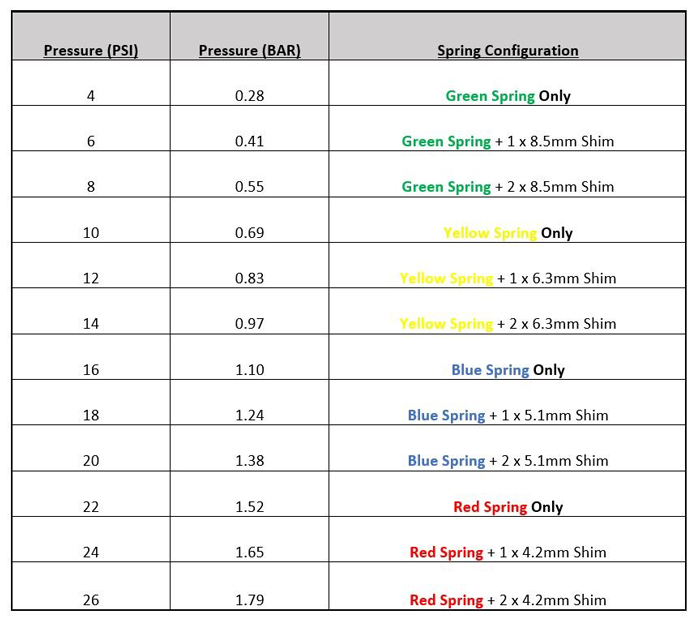 If you are unsure if this product is suitable for your application, please contact us.
Note: Serious or permanent damage may occur to the engine and associated components if this product is incorrectly matched to the individual engine requirements. Forge Motorsport nor any of its Authorised Distributors can assume any responsibility for any adverse effects resulting from the incorrect installation of this product.
Please Note:

In line with our policy to constantly review, revise, and improve our product range, the appearance of the product you receive may differ from the one advertised.
Product Reviews
Product Reviews
from on
Nov 19th 2018
Great quality! Excellent customer support on the right choice!
Want to leave a review?

Login Register FREE!
Compatible Vehicles
Warranty
Warranty Infomation
All Forge Motorsport products come with a limited lifetime warranty. All warranty claims must be accompanied by the original proof of purchase to enable us to help you. Failure to supply this proof will result in your claim or enquiry being denied.
For further information, please call our customer service team on +44(0)1452 380999 or email info@forgemotorsport.co.uk.
Do not use aggressive (acidic) car cleaning products, particularly traffic film remover solutions or shampoos to clean your intercooler, radiator or oil cooler. The use of these products can damage Forge Motorsport cooling systems and invalidate your warranty. These are often found at car washes. A light, warm, soapy solution (free of harsh acidic cleaning compounds) should be used to clean you cooler and thoroughly rinsed away. We recommend that you should inspect your product on a regular basis for bent and/or crushed fins. Any bent fins should be carefully straightened to allow ambient air to pass through the core face. At the time of installing your Forge radiator, an approved coolant must be used and added to the coolant system. Be sure you never mix coolant and always use distilled water.
Shipping
Shipping
USA Deliveries
All Deliveries are sent via Fedex. We cannot guarantee delivery timelines as all orders are up to shipper schedules and routes. Delivery fee is a Flat Rate of $20 fo all orders over $20. Orders below that value are costed out based on weight. Signature required may be added to your package. Orders can not be re-directed, held, or re-scheduled.
Shipping outside of the Lower 48- Duty Charge Information
All Forge products are sold with a Delivery Duty Unpaid (DDU) status and an import tariff may apply to your order. Customers will be contacted by the Customs and Excise authority in the destination country regarding payment prior to delivery, and it is important that correct contact telephone number and email information be submitted with the order to facilitate this part of the delivery process.

Our shipping methods ensure safe and timely delivery of your new Forge products. For further information on cost and delivery times, please contact Forge using the info@forgemotorsport.com email address if you require any more information. We reserve the right to change the delivery service and company at any time.
***Once a product has left our warehouse and is in the possession of the shipping company, any claims must be made directly with that shipper however we can assist with most cases.
Associated Products