Description
Product Description
With the success of FMINDK30 we took the opportunity to revisit the UP GTI and looked to see if we could improve on the 1.0 TSI air flow to the turbo charger. On investigation we could see that the OEM turbo adaptor was very restrictive and was an area in need for improvement. Therefore, our highly skilled development team got to work designing a solution to maximize the capacity by using our CAD system and physical prototypes.
The OEM plastic turbo inlet includes a restrictive ribbed and hollow noise chamber that is designed to disturb the air flow and reduce induction noise, this OEM part has a detrimental effect to the engines performance especially when tuned. For the best possible gains, we removed the chamber allowing us to increase the volume and air flow significantly. Our hose design also has an internal stepped area where it is positioned and joined to the turbo housing, this is to ensure the transition is as smooth as possible from the inlet tract to the turbo.
Several different designs and material choices were tested until we arrived with the product you see here. The construction of FMTIA3 is manufactured from reinforced multi ply silicone which is more durable than the OEM plastic pipe and it will also not suffer from heat soak like other similar products available. With its enlarged capacity and less restrictive surface area it routes air directly into your turbo charger and allows a greater volume of air to be compressed, this can have a positive effect on accelerating your vehicle after long deceleration or in between gear changes due to more air being kept within the inlet tract to the turbo charger.

One significant feature of FMTIA3 is its compatibility with vehicles equipped with and without the PCV system integrated into the existing turbo intake, the early engines do not have the breather system in place from the fuel tank to the elbow. We supply the necessary hardware to blank of the elbow spouts if its required to fit the turbo inlet adaptor to the earlier engine revision

The one way valve and coupler adaptor are also supplied so the elbow can be installed to the newer revised engine. The FMTIA3 is also compatible with the factory air box, however for the best performance results we recommend using our intake systems for your particular chassis application.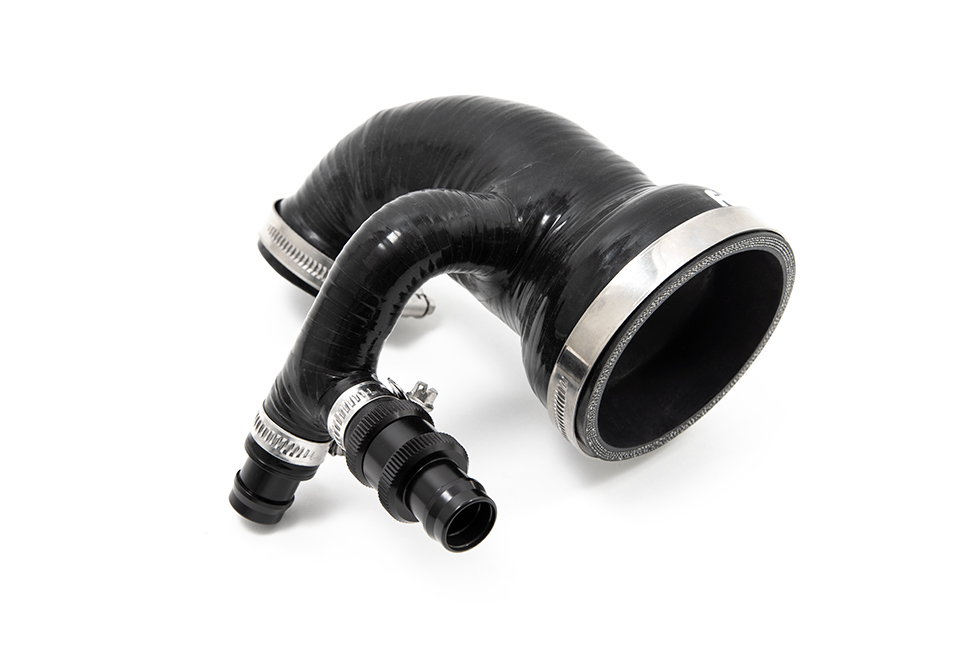 This is a product which is essential when tuning the 1.0 TSI engine, if its either stage one or stage two tuning we have seen consistent gains from 3-5 bhp depending on the vehicles state of tune.
This is a straightforward yet very effective power increasing modification that can be fitted with basic tools and has a typical installation time of around 60 minutes. As with all Forge products it includes a full set of comprehensive installation instructions to make fitting as straightforward as possible.
The Forge silicone hoses in this kit have been designed to include an expensive inner liner of modified silicone known as Fluorosilicone.
This means the hoses are suitable to be used with either modern long-life coolants, Organic Acid Technology coolants (O.A.T.) or air containing oil mist.
The construction of the hoses has been engineered to exceed that of the OEM fitments, and will enhance any engine bay both technically and aesthetically
Increased capacity
No engine check lights (EML)
Increased air flow
Lifetime warranty*

Please Note:

In line with our policy to constantly review, revise, and improve our product range, the appearance of the product you receive may differ from the one advertised.
Product Reviews
Product Reviews
Be the first to review this product
Want to leave a review?

Login Register FREE!
Compatible Vehicles
Instructions
Turbo Inlet Adaptor for VAG 1.0 TSI Engine
Warranty
Warranty Infomation
All Forge Motorsport products come with a limited lifetime warranty. All warranty claims must be accompanied by the original proof of purchase to enable us to help you. Failure to supply this proof will result in your claim or enquiry being denied.
For further information, please call our customer service team on +44(0)1452 380999 or email info@forgemotorsport.co.uk.
Do not use aggressive (acidic) car cleaning products, particularly traffic film remover solutions or shampoos to clean your intercooler, radiator or oil cooler. The use of these products can damage Forge Motorsport cooling systems and invalidate your warranty. These are often found at car washes. A light, warm, soapy solution (free of harsh acidic cleaning compounds) should be used to clean you cooler and thoroughly rinsed away. We recommend that you should inspect your product on a regular basis for bent and/or crushed fins. Any bent fins should be carefully straightened to allow ambient air to pass through the core face. At the time of installing your Forge radiator, an approved coolant must be used and added to the coolant system. Be sure you never mix coolant and always use distilled water.
Shipping
Shipping
USA Deliveries
All Deliveries are sent via Fedex. We cannot guarantee delivery timelines as all orders are up to shipper schedules and routes. Delivery fee is a Flat Rate of $20 fo all orders over $20. Orders below that value are costed out based on weight. Signature required may be added to your package. Orders can not be re-directed, held, or re-scheduled.
Shipping outside of the Lower 48- Duty Charge Information
All Forge products are sold with a Delivery Duty Unpaid (DDU) status and an import tariff may apply to your order. Customers will be contacted by the Customs and Excise authority in the destination country regarding payment prior to delivery, and it is important that correct contact telephone number and email information be submitted with the order to facilitate this part of the delivery process.

Our shipping methods ensure safe and timely delivery of your new Forge products. For further information on cost and delivery times, please contact Forge using the info@forgemotorsport.com email address if you require any more information. We reserve the right to change the delivery service and company at any time.
***Once a product has left our warehouse and is in the possession of the shipping company, any claims must be made directly with that shipper however we can assist with most cases.