Description
Product Description
If you are in the UK, you can purchase this product exclusively from Jimny Style! 01625 813365
Forge are excited to present our Hi Flow intake system for the Suzuki Jimny. Many months and man hours of development have gone into this product to achieve our three main objectives:
Increase power and torque output
Improve the sound characteristics of the engine note
Improve the visual impact of the engine bay
This induction kit for the Jimny was designed with cold air in mind, the carbon canister protects the cold air that is drawn to the inlet tract through the Forge fabricated duct that is situated just behind the headlight. This kit ensures your engines inlet temperatures are kept at a minimum to aid giving your engine the best in performance and longevity. Noise is also improved throughout the rev range along with low end torque and high end horse power improvements throughout the rev range. Aesthetically the Forge induction kit really adds a visual impact to your engine bay along with power improvements; this really is a must for every Suzuki enthusiast.
The kit comes complete with everything you need for installation, which can be carried out in around 40 minutes, including a comprehensive set of instructions.
The construction of this hose has been engineered to exceed that of the OEM fitments and will enhance any engine bay both technically and aesthetically
Lifetime warranty*
The filter is manufactured to Forge's specifications by Pipercross (you can find a replacement here)
Washable and reusable design
Layered multi-density foam technology
Designed and manufactured in Great Britain
Improvement in engine power and torque with superior engine protection from dirt and dust ingress
Designed to flow stronger for longer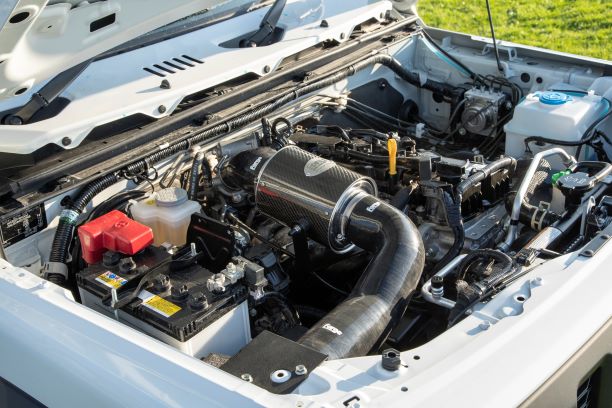 Why not add gold tape to the underside of the carbon filter housing to further reflect any heat soak from the engine. The Gold tape comes on a 5 metre roll allowing you to apply it to the underside of your Forge Motorsport product.
Please watch our video on how to fit an air filter without damaging it.
DO NOT OVER TIGHTEN
When fitting the filter to its counterpart please ensure you do not over tighten the hose clamp connecting them. Doing so could result in the part being crushed, leading to fitment and/or performance issues. The recommended torque setting for this hose clamp is 2-2.4Nm
Please Note:

In line with our policy to constantly review, revise, and improve our product range, the appearance of the product you receive may differ from the one advertised.
Product Reviews
Product Reviews
Be the first to review this product
Want to leave a review?

Login Register FREE!
Compatible Vehicles
Instructions
Suzuki Jimny 2018- Induction Kit
Warranty
Warranty Infomation
All Forge Motorsport products come with a limited lifetime warranty. All warranty claims must be accompanied by the original proof of purchase to enable us to help you. Failure to supply this proof will result in your claim or enquiry being denied.
For further information, please call our customer service team on +44(0)1452 380999 or email info@forgemotorsport.co.uk.
Do not use aggressive (acidic) car cleaning products, particularly traffic film remover solutions or shampoos to clean your intercooler, radiator or oil cooler. The use of these products can damage Forge Motorsport cooling systems and invalidate your warranty. These are often found at car washes. A light, warm, soapy solution (free of harsh acidic cleaning compounds) should be used to clean you cooler and thoroughly rinsed away. We recommend that you should inspect your product on a regular basis for bent and/or crushed fins. Any bent fins should be carefully straightened to allow ambient air to pass through the core face. At the time of installing your Forge radiator, an approved coolant must be used and added to the coolant system. Be sure you never mix coolant and always use distilled water.
Shipping
Shipping
USA Deliveries
All Deliveries are sent via Fedex. We cannot guarantee delivery timelines as all orders are up to shipper schedules and routes. Delivery fee is a Flat Rate of $20 fo all orders over $20. Orders below that value are costed out based on weight. Signature required may be added to your package. Orders can not be re-directed, held, or re-scheduled.
Shipping outside of the Lower 48- Duty Charge Information
All Forge products are sold with a Delivery Duty Unpaid (DDU) status and an import tariff may apply to your order. Customers will be contacted by the Customs and Excise authority in the destination country regarding payment prior to delivery, and it is important that correct contact telephone number and email information be submitted with the order to facilitate this part of the delivery process.

Our shipping methods ensure safe and timely delivery of your new Forge products. For further information on cost and delivery times, please contact Forge using the info@forgemotorsport.com email address if you require any more information. We reserve the right to change the delivery service and company at any time.
***Once a product has left our warehouse and is in the possession of the shipping company, any claims must be made directly with that shipper however we can assist with most cases.