Description
Product Description
Highlights:
Peak gains of 25bhp
Gains of 43nm of torque
113% volume increase
Hand fabricated in the UK
Kit includes all necessary fittings and instructions included
Lifetime warranty

This part replaces OEM part number 282702L000
The Hyundai i20N is an impressive hot hatch with plenty of potential for being fun and fast. However, when looking at the OEM intercooler our development team were able to see that this will be a weak point for those owners looking to push more power or enjoy spirited driving and track days.
Our development team started with what we learnt from the successful FMINT15 for the Hyundai MK3 i30N, as the 1.6 litre engine in the i20N shares the same design concept as the 2.0 litre in the i30N. We hand fabricated end tanks as a starting point to create a mock-up intercooler, allowing us to understand design parameters. This was then 3D scanned, allowing our development team to fine tune and produce the biggest core with the smoothest flowing end tank design for the available space.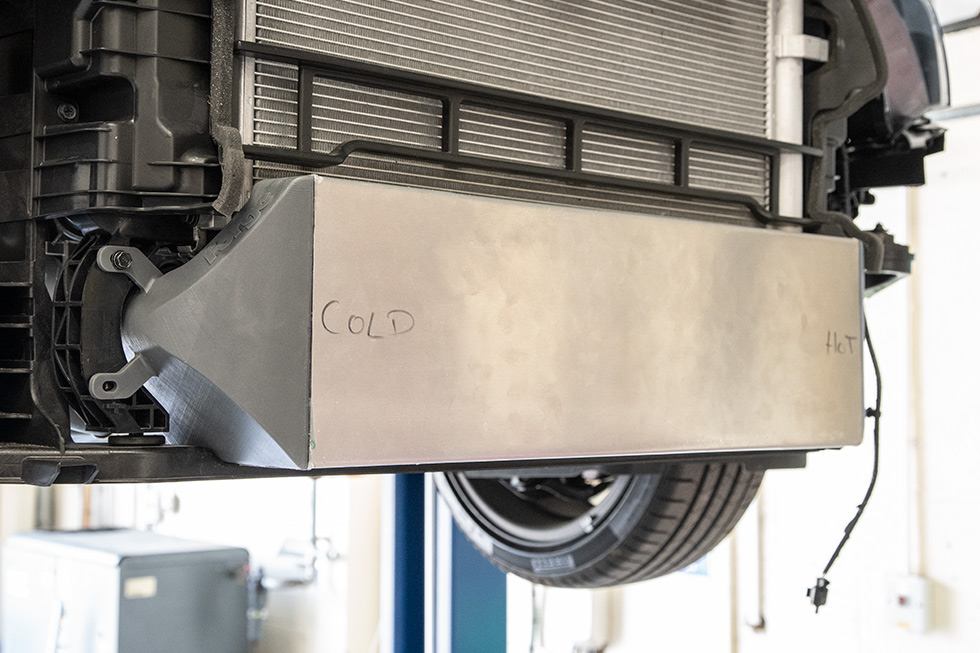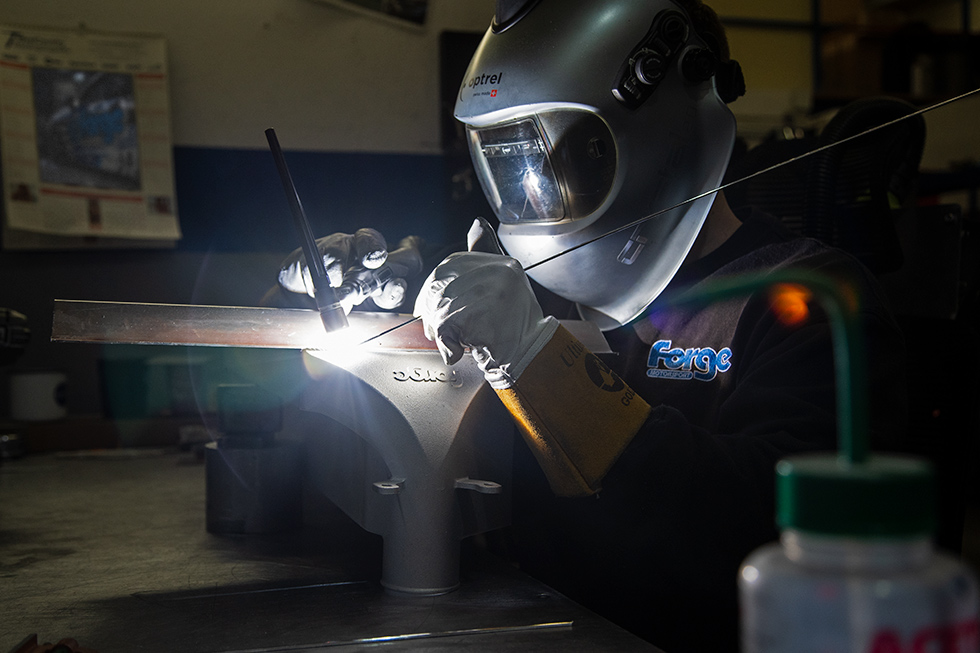 SolidWorks CAD and Computational Fluid Dynamics (CFD) was utilised to develop our high flow cast end tanks. This helped us to incorporate a turbo side internal divider to ensure the full volume of the stepped core is utilised for maximum cooling. With the design completed, we 3D printed the end tanks using our Formlabs Form 3L printer, to then test fit to the vehicle to sign off the new design. To complete the development, we had one-off sand-cast end tanks manufactured allowing us to test the design before manufacture was started on the Forge Motorsport performance intercooler.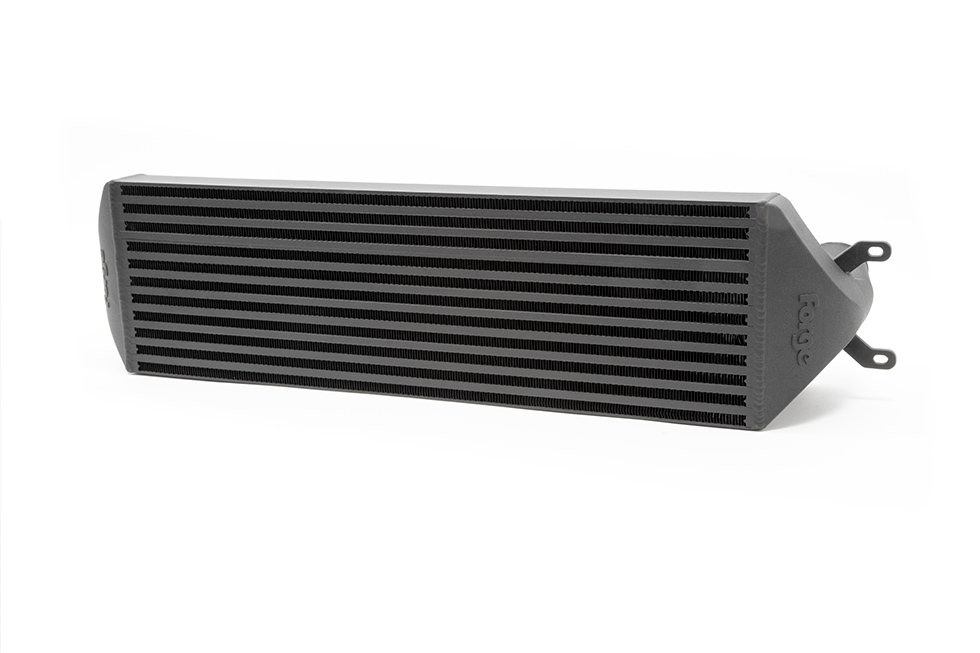 Our industry leading bar and plate core is an increase of 113% in volumetric capacity and an increase of frontal surface area of over 57% than the OEM intercooler/Heat exchanger. FMINT28 is the largest currently available on the market. The inlet and outlet sizes have both been increased in diameter, the hot side from 50mm to 60mm giving a volumetric increase of over 44% from the OEM intercooler, and the cold side from 50mm to 63mm giving a volumetric increase of over 59% from the OEM intercooler.
Testing was completed using Performance Remap in Gloucester with their VTEC 4-wheel drive dynamometer. This was to ensure all our data has been achieved with results as accurately as possible by an independent tuner. As you can see from the dyno results below, peak power was increased from stock by 11bhp and 43nm of torque with the Forge Motorsport performance intercooler installed. The best news is that there are significant gains across the entire rev range, meaning that the car will pick up quicker and pull the whole way through to redline, including up to 25bhp increase over stock at 4500rpm.
To give consistent result which reflects real-world driving conditions, the dyno pulls were done with the car up to temperature with the radiator fans tripped on. With the OEM cooler two consecutive runs showed a maximum temperature of 44°C at 6747rpm. With FMINT28 installed we ran four consecutive runs, and the temperature didn't rise to any more than 32°C at 6717rpm. This 12°C is a massive temperatire decrease of 32%.
It's also worth noting that the dyno cells ambient temperature rose from 24°C to 29°C between the test days so you may experience even better results. With this reduced intake air temperature (IAT), you will prevent the stock ECU from pulling out the engines timing which results in a loss of power. If you use a i20N for fast road or have a high-performance tune in a hot climate, this performance intercooler is essential.
This intercooler combined with our intake, and a quality aftermarket cat back exhaust with factory software will deliver you unparalleled levels of performance. The Forge Motorsport front mount intercooler has all the necessary hardware to install the kit in approximately 2.5 hours depending on competency and tools available. The Forge intercooler weighs 9.65kg compared to the OEM's 3.7kg

Complimentary Products

Please Note:

In line with our policy to constantly review, revise, and improve our product range, the appearance of the product you receive may differ from the one advertised.
Product Reviews
Product Reviews
Be the first to review this product
Want to leave a review?

Login Register FREE!
Compatible Vehicles
Instructions
Intercooler for Hyundai i20N
Warranty
Warranty Infomation
All Forge Motorsport products come with a limited lifetime warranty. All warranty claims must be accompanied by the original proof of purchase to enable us to help you. Failure to supply this proof will result in your claim or enquiry being denied.
For further information, please call our customer service team on +44(0)1452 380999 or email info@forgemotorsport.co.uk.
Do not use aggressive (acidic) car cleaning products, particularly traffic film remover solutions or shampoos to clean your intercooler, radiator or oil cooler. The use of these products can damage Forge Motorsport cooling systems and invalidate your warranty. These are often found at car washes. A light, warm, soapy solution (free of harsh acidic cleaning compounds) should be used to clean you cooler and thoroughly rinsed away. We recommend that you should inspect your product on a regular basis for bent and/or crushed fins. Any bent fins should be carefully straightened to allow ambient air to pass through the core face. At the time of installing your Forge radiator, an approved coolant must be used and added to the coolant system. Be sure you never mix coolant and always use distilled water.
Shipping
Shipping
USA Deliveries
All Deliveries are sent via Fedex. We cannot guarantee delivery timelines as all orders are up to shipper schedules and routes. Delivery fee is a Flat Rate of $20 fo all orders over $20. Orders below that value are costed out based on weight. Signature required may be added to your package. Orders can not be re-directed, held, or re-scheduled.
Shipping outside of the Lower 48- Duty Charge Information
All Forge products are sold with a Delivery Duty Unpaid (DDU) status and an import tariff may apply to your order. Customers will be contacted by the Customs and Excise authority in the destination country regarding payment prior to delivery, and it is important that correct contact telephone number and email information be submitted with the order to facilitate this part of the delivery process.

Our shipping methods ensure safe and timely delivery of your new Forge products. For further information on cost and delivery times, please contact Forge using the info@forgemotorsport.com email address if you require any more information. We reserve the right to change the delivery service and company at any time.
***Once a product has left our warehouse and is in the possession of the shipping company, any claims must be made directly with that shipper however we can assist with most cases.