Description
Product Description
This performance part replaces OEM part number K1BY-9R504-A
This performance inlet pipe for the Ford Fiesta ST MK8 & Puma ST fits between the air filter and turbo inlet pipe and is a highly visible component of the engine bay, accordingly its available in red, blue, grey and black. Its fully compatible with either the OEM filter box or our intake for this application.
Unlike the stock Ford hose (K1BY-9R504-A) , the Forge inlet hose maintains a constant internal diameter to ensure a smooth flow of air to the turbo charger, which owners have commented makes the car livelier to drive.
Our high grip hose clamps are included with this product.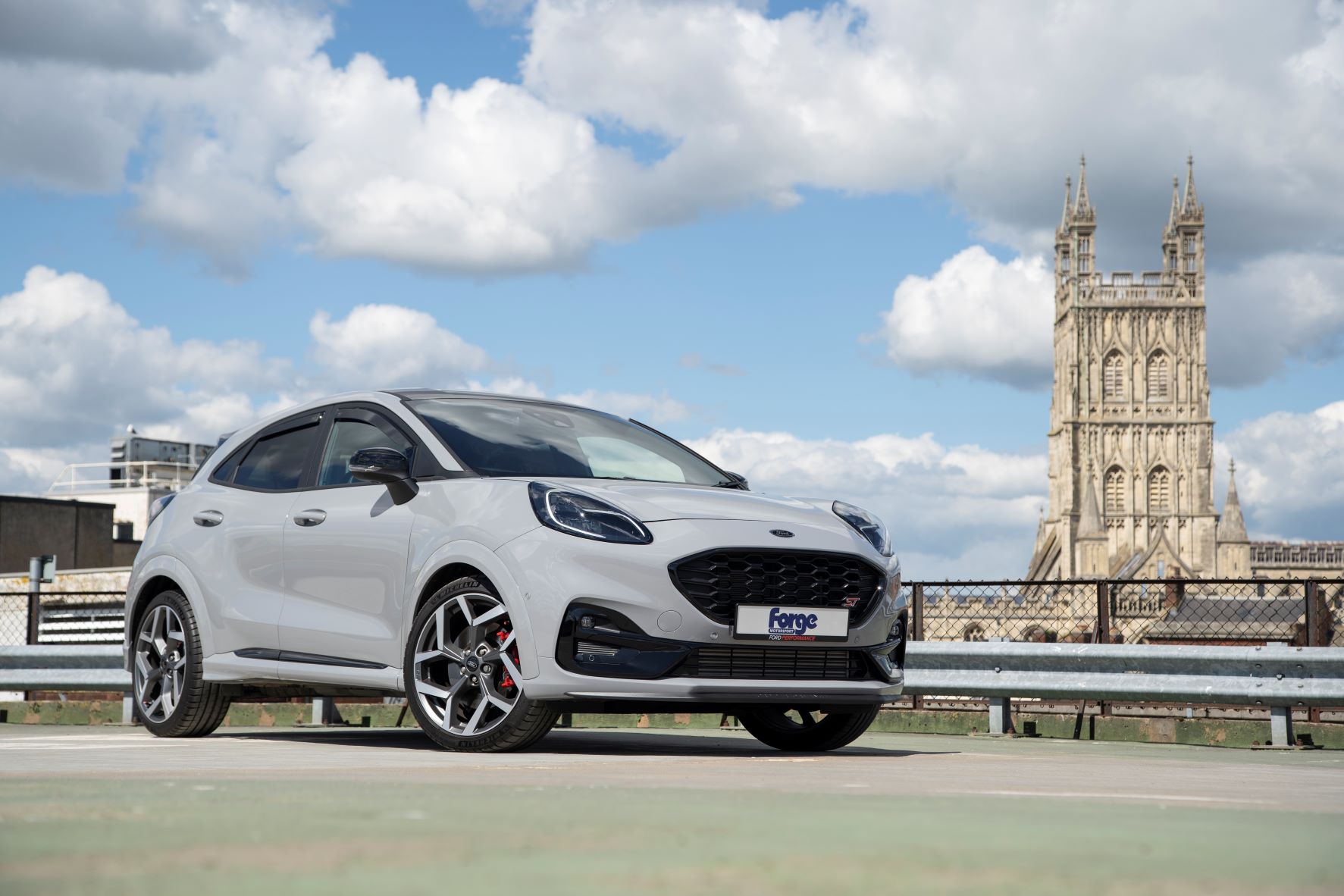 The Forge silicone hoses in this kit have been designed to include an expensive inner liner of modified silicone known as Fluorosilicone.
This means the hoses are suitable to be used with either modern long-life coolants, Organic Acid Technology coolants (O.A.T.) or air containing oil mist.
The construction of the hoses has been engineered to exceed that of the OEM fitments, and will enhance any engine bay both technically and aesthetically
The use of a Fluorosilicone liner ensures that Forge silicone hoses are the clear market leader.
Lifetime warranty on Ford performance parts and also makes and models on our website*

Complimentary Products
The FMINDK38 is the cold air induction system for Ford's latest generation 1.5-liter 3-cylinder ST engine. Like with all manufacturers in recent times the need to make smaller engines more efficient and more powerful has been an engineer's top priority, this then creates a problem for the aftermarket manufacturers to improve what is already fitted to the vehicle, nevertheless this hasn't stopped us at Forge Motorsport. On a tuned vehicle this combination is an essential purchase as the OEM air box is found to be too restrictive to achieve the optimum power figures and smooth power delivery.

This beautifully crafted high flow charge pipe is for the Ford Fiesta ST MK8 and Ford Puma ST. This product has been created over many days and months of dyno testing and road testing to prove the products credentials. The boost pipes are a direct replacement to the original hot-side charge pipe which is rather restrictive especially at the turbo end. FMBP6 was developed to remove these restrictions and now features a smooth and enlarged bore size creating a vast improvement in air flow and a reduction in pressure drop.

Please Note:

In line with our policy to constantly review, revise, and improve our product range, the appearance of the product you receive may differ from the one advertised.
Product Reviews
Product Reviews
Be the first to review this product
Want to leave a review?

Login Register FREE!
Compatible Vehicles
Warranty
Warranty Infomation
All Forge Motorsport products come with a limited lifetime warranty. All warranty claims must be accompanied by the original proof of purchase to enable us to help you. Failure to supply this proof will result in your claim or enquiry being denied.
For further information, please call our customer service team on +44(0)1452 380999 or email info@forgemotorsport.co.uk.
Do not use aggressive (acidic) car cleaning products, particularly traffic film remover solutions or shampoos to clean your intercooler, radiator or oil cooler. The use of these products can damage Forge Motorsport cooling systems and invalidate your warranty. These are often found at car washes. A light, warm, soapy solution (free of harsh acidic cleaning compounds) should be used to clean you cooler and thoroughly rinsed away. We recommend that you should inspect your product on a regular basis for bent and/or crushed fins. Any bent fins should be carefully straightened to allow ambient air to pass through the core face. At the time of installing your Forge radiator, an approved coolant must be used and added to the coolant system. Be sure you never mix coolant and always use distilled water.
Shipping
Shipping
USA Deliveries
All Deliveries are sent via Fedex. We cannot guarantee delivery timelines as all orders are up to shipper schedules and routes. Delivery fee is a Flat Rate of $20 fo all orders over $20. Orders below that value are costed out based on weight. Signature required may be added to your package. Orders can not be re-directed, held, or re-scheduled.
Shipping outside of the Lower 48- Duty Charge Information
All Forge products are sold with a Delivery Duty Unpaid (DDU) status and an import tariff may apply to your order. Customers will be contacted by the Customs and Excise authority in the destination country regarding payment prior to delivery, and it is important that correct contact telephone number and email information be submitted with the order to facilitate this part of the delivery process.

Our shipping methods ensure safe and timely delivery of your new Forge products. For further information on cost and delivery times, please contact Forge using the info@forgemotorsport.com email address if you require any more information. We reserve the right to change the delivery service and company at any time.
***Once a product has left our warehouse and is in the possession of the shipping company, any claims must be made directly with that shipper however we can assist with most cases.