Description
Product Description
THIS WILL ONLY FIT 4" INTAKES - THIS WILL NOT FIT THE STOCK AIRBOX. THIS WILL ONLY FIT THE MK3.5 FACELIFT I30N
With Forge leading the way in aftermarket products for the new Hyundai's, we are proud to present our turbo inlet adaptor for the MK3.5 i30N. After investigation we found the new turbo to be larger on the latest MK3.5 I30N giving even more reason to have this superb product as the newly refreshed design needs to flow even more air than its predecessor. After stage one or two tunes the performance yields are even greater than the previous model with even better driving response and improved higher end BHP gains.
Redesigned and developed by our highly skilled team on Solidworks CAD system the all billet turbo adaptor and high flow silicone inlet pipe is proven to benefit the engines performance. With one of the weak links on the i30N and intake system being the restrictive aluminium inlet pipe we found something more was needed on stage 1 and 2 tuned vehicles. You cannot go wrong with Forge Motorsport hardware on your tuned Hyundai, the results speak for themselves.
Mated to our 4" intake and high performance filter (FMINDK28) the gain from the turbo adaptor alone was 10BHP, and, along with a gain in torque, it really transforms your driving experience. The power can be felt from just above 3000 RPM and helps keep a hard consistent pull all the way to the rev limiter.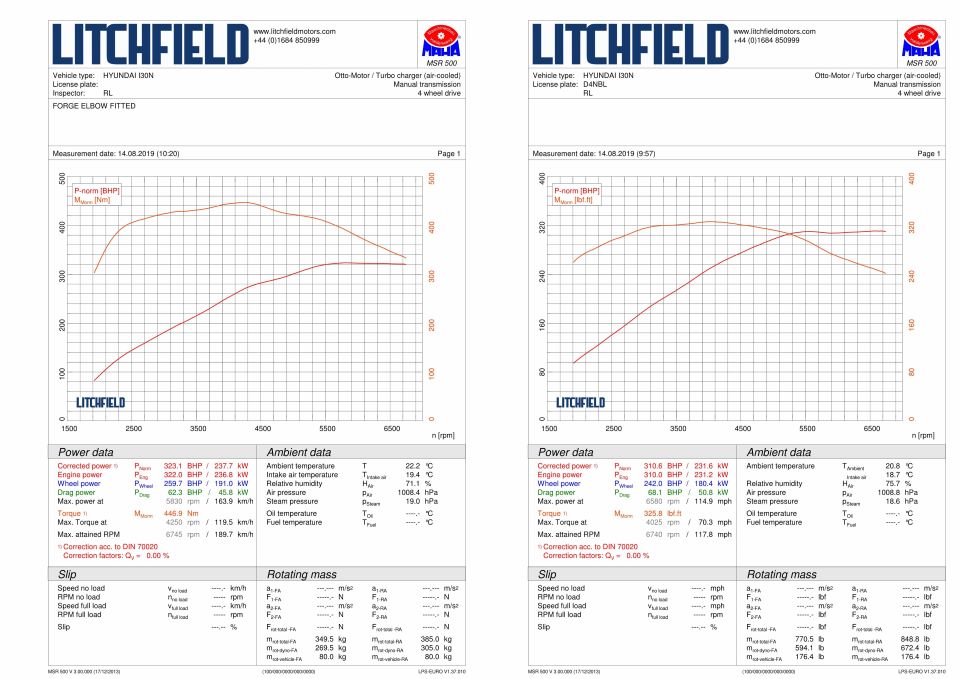 Designed in a similar way to a conventional velocity stack, it routes the air more directly into your turbo charger and allows more air to be compressed due to its larger capacity.
Testing was completed on a Maha independent dyno, manufactured by the same people who currently supply BMW M sport and Mercedes Benz for all of their engine calibration and dyno testing.
The Forge turbo inlet adaptor and high flow inlet pipe has a capacity of more than 150% over the stock item. Not only will you notice the increased performance, but also a slight change in your engine acoustics can be heard.
As with all Forge motorsport products we offer a no quibble lifetime guarantee on both the silicone hose and billet adaptor.
Will this fit other intakes? The answer is yes, it will fit other manufacturers intakes that have an inlet pipe of 102mm (4"). This will not fit the OEM.
This is a simple installation and a modification that releases even more power from the Hyundai`s motor and fitting takes typically around 45 minutes and includes a full set of comprehensive installation instructions.
Manufactured from 6082 aerospace grade aluminium
Black anodised for ultimate protection and durability
Increased capacity of over 150%
No engine check lights (EML)
Perfect fit with our induction kit
Increased air flow
Hoses in this kit have been designed to include an expensive inner liner of modified silicone known as Fluorosilicone.
Made in the UK
Lifetime warranty

Please Note:

In line with our policy to constantly review, revise, and improve our product range, the appearance of the product you receive may differ from the one advertised.
Product Reviews
Product Reviews
Be the first to review this product
Want to leave a review?

Login Register FREE!
Compatible Vehicles
Instructions
Hyundai i30N MK3.5 Facelift, Elantra N, Veloster N, & Kona N Turbo Inlet Adaptor
Warranty
Warranty Infomation
All Forge Motorsport products come with a limited lifetime warranty. All warranty claims must be accompanied by the original proof of purchase to enable us to help you. Failure to supply this proof will result in your claim or enquiry being denied.
For further information, please call our customer service team on +44(0)1452 380999 or email info@forgemotorsport.co.uk.
Do not use aggressive (acidic) car cleaning products, particularly traffic film remover solutions or shampoos to clean your intercooler, radiator or oil cooler. The use of these products can damage Forge Motorsport cooling systems and invalidate your warranty. These are often found at car washes. A light, warm, soapy solution (free of harsh acidic cleaning compounds) should be used to clean you cooler and thoroughly rinsed away. We recommend that you should inspect your product on a regular basis for bent and/or crushed fins. Any bent fins should be carefully straightened to allow ambient air to pass through the core face. At the time of installing your Forge radiator, an approved coolant must be used and added to the coolant system. Be sure you never mix coolant and always use distilled water.
Shipping
Shipping
USA Deliveries
All Deliveries are sent via Fedex. We cannot guarantee delivery timelines as all orders are up to shipper schedules and routes. Delivery fee is a Flat Rate of $20 fo all orders over $20. Orders below that value are costed out based on weight. Signature required may be added to your package. Orders can not be re-directed, held, or re-scheduled.
Shipping outside of the Lower 48- Duty Charge Information
All Forge products are sold with a Delivery Duty Unpaid (DDU) status and an import tariff may apply to your order. Customers will be contacted by the Customs and Excise authority in the destination country regarding payment prior to delivery, and it is important that correct contact telephone number and email information be submitted with the order to facilitate this part of the delivery process.

Our shipping methods ensure safe and timely delivery of your new Forge products. For further information on cost and delivery times, please contact Forge using the info@forgemotorsport.com email address if you require any more information. We reserve the right to change the delivery service and company at any time.
***Once a product has left our warehouse and is in the possession of the shipping company, any claims must be made directly with that shipper however we can assist with most cases.