Description
Product Description
Take an already incredible vehicle, pop the bonnet, and make it stand out even more with our carbon fibre engine cover.
We took the OEM engine cover and improved it. Our cover fits on the original mounting locations, is water-resistant, and takes each heat cycle of the engine with ease. Not only that, it's finished in high quality clear coat to ensure UV-protection and extra durability
It fits perfectly with our boost pipes and strut brace, which as a trio will completely transform the engine bay!
It is almost guaranteed that you will get some fingerprint marks/smudges on the engine cover during the installation, that's why we send our engine cover in a microfibre bag. You can use the bag along with the Meguiar's Care Pouch to give your new engine cover a fresh shine!
Manufactured by an autoclave process using a vacuum (also known as liquid infusion) to draw the resin through the mould then pulling the raw carbon fibre cloth to the mould shape. This involves the use of up to 10BAR of pressure that is blown into a 100% billet mould to force the material out. This high amount of pressure ensures the carbon fibre is fully in contact with the surface of the mould, therefore, making sure the weave is tight, solid and strong; this process will also ensure there are no imperfections in the product.
Highlights:
UV, temperature, and water-resistant
Designed to locate in the OEM factory position
Finished in high quality clear coat to ensure UV-protection and extra durability
In the Box:
1 x Forge Motorsport Carbon Engine Cover
1 x Forge Motorsport Micro Fibre Bag
1 x Meguiar's Care Pouch
1 x Forge Motorsport Decal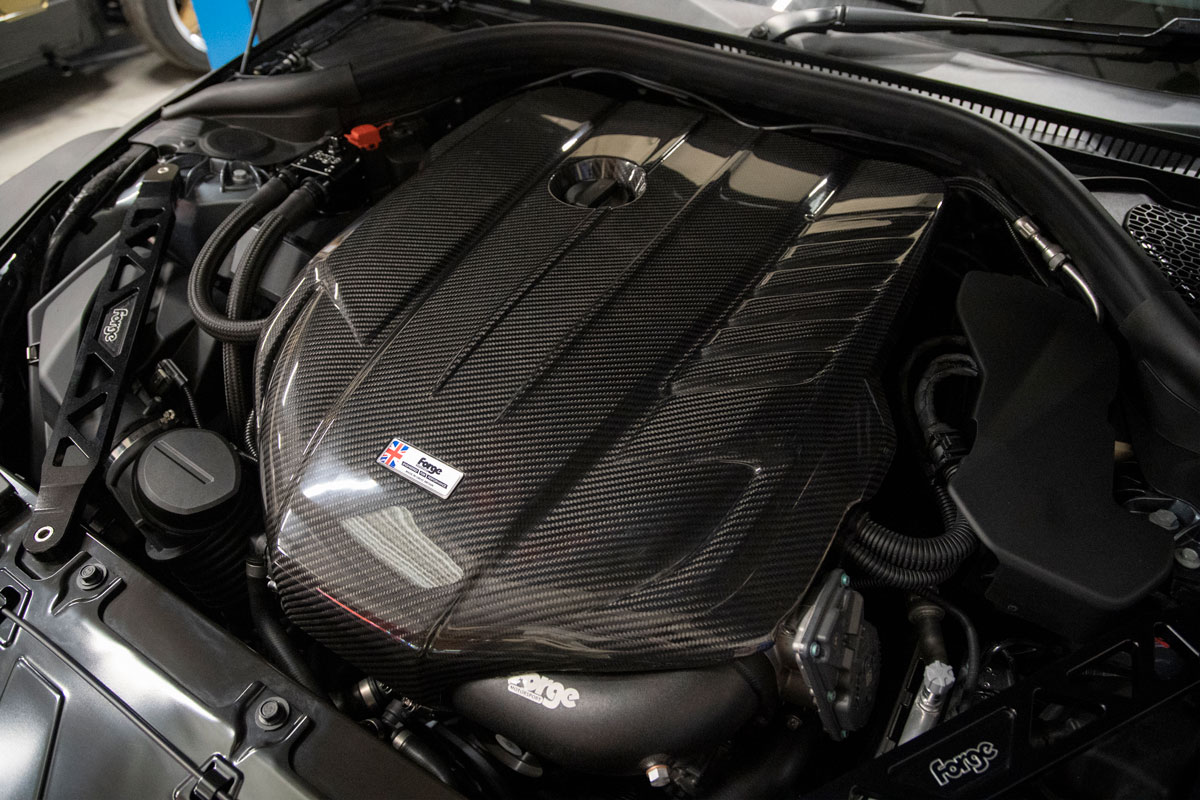 The Forge range of carbon fibre products are manufactured to the highest standards utilising the absolute best materials available. However, in certain applications and in areas of extreme temperature, this can lead to discolouration or fading (yellowing) of the carbon fibre. Unfortunately due to this harsh and extreme environment, your Forge carbon fibre is not warrantied for that eventuality. All other aspects of your carbon fibre products are covered by our warranty process.
Please Note:

In line with our policy to constantly review, revise, and improve our product range, the appearance of the product you receive may differ from the one advertised.
Product Reviews
Product Reviews
Be the first to review this product
Want to leave a review?

Login Register FREE!
Compatible Vehicles
Instructions
Warranty
Warranty Infomation
All Forge Motorsport products come with a limited lifetime warranty. All warranty claims must be accompanied by the original proof of purchase to enable us to help you. Failure to supply this proof will result in your claim or enquiry being denied.
For further information, please call our customer service team on +44(0)1452 380999 or email info@forgemotorsport.co.uk.
Do not use aggressive (acidic) car cleaning products, particularly traffic film remover solutions or shampoos to clean your intercooler, radiator or oil cooler. The use of these products can damage Forge Motorsport cooling systems and invalidate your warranty. These are often found at car washes. A light, warm, soapy solution (free of harsh acidic cleaning compounds) should be used to clean you cooler and thoroughly rinsed away. We recommend that you should inspect your product on a regular basis for bent and/or crushed fins. Any bent fins should be carefully straightened to allow ambient air to pass through the core face. At the time of installing your Forge radiator, an approved coolant must be used and added to the coolant system. Be sure you never mix coolant and always use distilled water.
Shipping
Shipping
Please fill out your details below
We use Mailchimp as our marketing automation platform. By clicking submit to this form, you acknowledge that the information you provide will be transferred to MailChimp for processing in accordance with their Privacy Policy and Terms.