Description
Product Description
The Forge Motorsport intake system for the Ford Fiesta ST180 features a large diameter Ram Air high flow, pleated, synthetic nanofiber filtration filter, for superior filtration and enhanced breathing for the engine – but also featuring a larger surface area than the stock filter and many competitors.
The MAF housing is CNC machined in our Gloucester machine shop and gently tapered internally so as to ensure maximum flow whilst emulating the stock configuration to eliminate the possibility of any engine check lights.
We also provide a laser cut and powder coated aluminium shield which sits under the filter and directs air around the filter that enters the bay through the bonnet slam panel.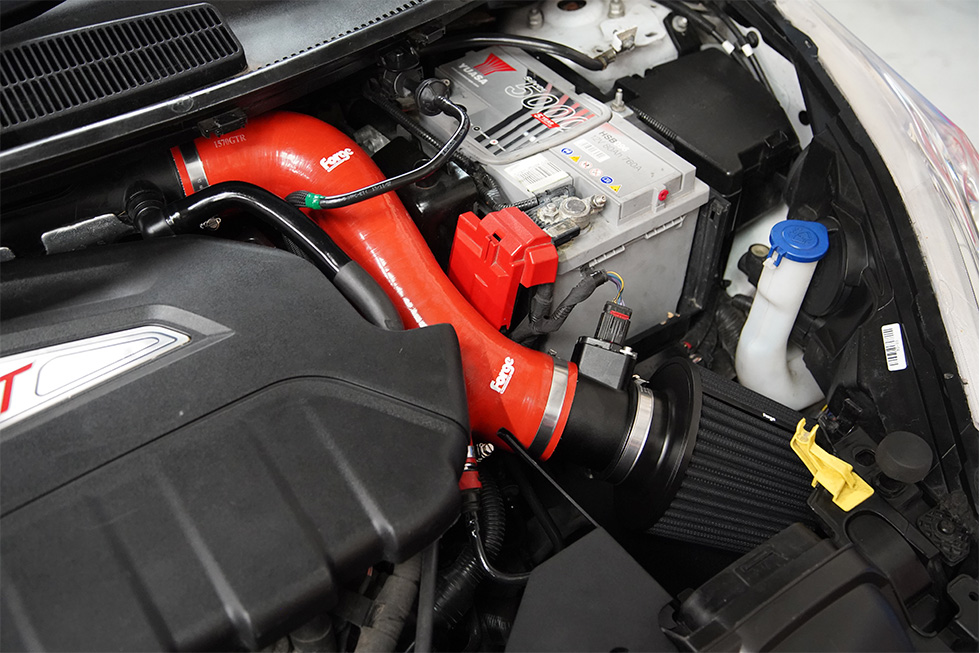 During testing we have achieved gains of up to 11bhp when installed in conjunction with an engine remap, which is generally needed in order to make the most of the improved airflow.
This filter kit can also be installed in conjunction with our silicon intake pipe
*Please note - the filter is excluded from the Forge lifetime warranty*
FOR REPLACEMENT FILTER PLEASE CLICK HERE
Please watch our video on how to fit an air filter without damaging it.
Please Note:

In line with our policy to constantly review, revise, and improve our product range, the appearance of the product you receive may differ from the one advertised.
Product Reviews
Product Reviews
Be the first to review this product
Want to leave a review?

Login Register FREE!
Compatible Vehicles
Instructions
Warranty
Warranty Infomation
All Forge Motorsport products come with a limited lifetime warranty. All warranty claims must be accompanied by the original proof of purchase to enable us to help you. Failure to supply this proof will result in your claim or enquiry being denied.
For further information, please call our customer service team on +44(0)1452 380999 or email info@forgemotorsport.co.uk.
Do not use aggressive (acidic) car cleaning products, particularly traffic film remover solutions or shampoos to clean your intercooler, radiator or oil cooler. The use of these products can damage Forge Motorsport cooling systems and invalidate your warranty. These are often found at car washes. A light, warm, soapy solution (free of harsh acidic cleaning compounds) should be used to clean you cooler and thoroughly rinsed away. We recommend that you should inspect your product on a regular basis for bent and/or crushed fins. Any bent fins should be carefully straightened to allow ambient air to pass through the core face. At the time of installing your Forge radiator, an approved coolant must be used and added to the coolant system. Be sure you never mix coolant and always use distilled water.
Shipping
Shipping
Please fill out your details below
We use Mailchimp as our marketing automation platform. By clicking submit to this form, you acknowledge that the information you provide will be transferred to MailChimp for processing in accordance with their Privacy Policy and Terms.