Description
Product Description
This does not fit the 306bhp model
Washable and reusable design filter.
Layered multi-density foam technology.
Designed and manufactured in Great Britain.
Improvement in engine power and torque
Superior engine protection from dirt and dust ingress.
Designed to flow stronger for longer.
This induction kit has been developed to fit Mini (Generation 3) vehicles fitted with a Bosch intake sensor part Number: 0 281 006 597 and the BMW 118i Before purchasing this item please use the photo guide below to correctly identify the intake sensor fitted to your vehicle.
Forge Motorsport have been at the forefront of Mini tuning since 2006, and proud sponsor of the Mini Challenge which sees our performance parts fitted to both the R56 and F56 generations of Mini, across the entire grid. The intake itself features a bespoke aluminium heat shield, which doubles as a scoop to direct air from the cold air inlet on the slam panel, and it picks up on the stock mounting locations with rubber grommets to reduce vibration and noise.
Compliment your Forge Motorsport induction kit with the mandrel bent high flow turbo intake pipe FMHFIP1 which eliminates flow restrictions associated with the OEM plastic pipe and resonator.
Take a look at our video to see the dyno test results and an impressive 10 BHP gain. The pipe to the filter is hand fabricated and features a precision machined MAF boss so that the cars original MAF can simply be bolted on to the new intake whilst the filter is manufactured to Forge's specifications by Pipercross.
Finally, the intake scoop and hard pipe are finished in hard-wearing crackle black powder coat to give an OEM style finish. Fitting is very straightforward, requires no cutting or modification to the vehicle so it can easily be removed if needs be, and can be completed in 20-30 minutes.

If you have the below sensor, this part will fit your vehicle.
If you have the below sensor, this part will not fit your vehicle. Please purchase FMINDF56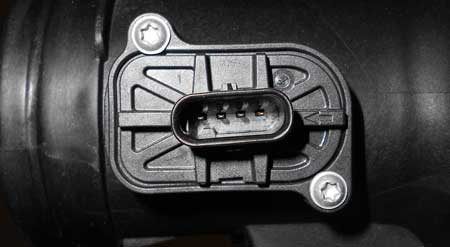 *Please note - the Pipercross filter is excluded from the Forge lifetime warranty*
DO NOT OVER TIGHTEN
When fitting the filter to its counterpart please ensure you do not over tighten the hose clamp connecting them. Doing so could result in the part being crushed, leading to fitment and/or performance issues. The recommended torque setting for this hose clamp is 2-2.4Nm
Please Note:

In line with our policy to constantly review, revise, and improve our product range, the appearance of the product you receive may differ from the one advertised.
Product Reviews
Product Reviews
from on
Sep 12th 2019
I actually ordered the wrong kit originally so I would suggest double-checking your MAF before ordering. Anyway, the kit came in great shape and installed easily. I'm using it in conjunction with the hard-pipe replacement. The intake sound is nice and the engine pulls much better than before. It's very noticeable at higher speeds and passing as air flows through the duct much better at speed. The kit comes with cleaning directions for 3 different types of filters and doesn't specify which cleaning interval is correct for the attached filter. 20k is what Brandon suggested (It is not the race filter). All and all I would say my experience has been good with all the back and forth. The product is heavy-duty, built extremely well, and performs as expected. I look forward to my future purchases with Forge.

Want to leave a review?

Login Register FREE!
Compatible Vehicles
Instructions
Induction Kit for Mini F54, F55, F56, F57, and BMW 118i
Warranty
Warranty Infomation
All Forge Motorsport products come with a limited lifetime warranty. All warranty claims must be accompanied by the original proof of purchase to enable us to help you. Failure to supply this proof will result in your claim or enquiry being denied.
For further information, please call our customer service team on +44(0)1452 380999 or email info@forgemotorsport.co.uk.
Do not use aggressive (acidic) car cleaning products, particularly traffic film remover solutions or shampoos to clean your intercooler, radiator or oil cooler. The use of these products can damage Forge Motorsport cooling systems and invalidate your warranty. These are often found at car washes. A light, warm, soapy solution (free of harsh acidic cleaning compounds) should be used to clean you cooler and thoroughly rinsed away. We recommend that you should inspect your product on a regular basis for bent and/or crushed fins. Any bent fins should be carefully straightened to allow ambient air to pass through the core face. At the time of installing your Forge radiator, an approved coolant must be used and added to the coolant system. Be sure you never mix coolant and always use distilled water.
Shipping
Shipping
USA Deliveries
All Deliveries are sent via Fedex. We cannot guarantee delivery timelines as all orders are up to shipper schedules and routes. Delivery fee is a Flat Rate of $20 fo all orders over $20. Orders below that value are costed out based on weight. Signature required may be added to your package. Orders can not be re-directed, held, or re-scheduled.
Shipping outside of the Lower 48- Duty Charge Information
All Forge products are sold with a Delivery Duty Unpaid (DDU) status and an import tariff may apply to your order. Customers will be contacted by the Customs and Excise authority in the destination country regarding payment prior to delivery, and it is important that correct contact telephone number and email information be submitted with the order to facilitate this part of the delivery process.

Our shipping methods ensure safe and timely delivery of your new Forge products. For further information on cost and delivery times, please contact Forge using the info@forgemotorsport.com email address if you require any more information. We reserve the right to change the delivery service and company at any time.
***Once a product has left our warehouse and is in the possession of the shipping company, any claims must be made directly with that shipper however we can assist with most cases.