Description
Product Description
This is a replacement for OEM part number 17517617597
As the preferred and official supplier of to www.minichallenge.co.uk Forge Motorsport is proud to present our for the Mini Cooper 1.5 Turbo F56 Chassis.
Our core offers a 123% increase in frontal area over stock (BMW Part no 17517617597).
As the originators of the stepped core design way back in 2006, Forge Motorsport is best placed within the market to call on our vast expertise in order to deliver a direct fit that would enhance the performance potential of the BMW Group 1.5 Turbo 3 cylinder engine.
Our end tanks are die cast in aluminium for improved internal flow characteristics, developed from 3D printed prototypes that we manufactured in-house at our dedicated R&D facility in Gloucester, UK. The bar and plate core design we have used comes after months of testing different core designs and opting for the core with of internal, external airflow and heat transfer characteristics.
Please look through the front grill to ascertain which cooler you need. The FMINT8 has 7 tubes the FMINTMF56 has 11
Or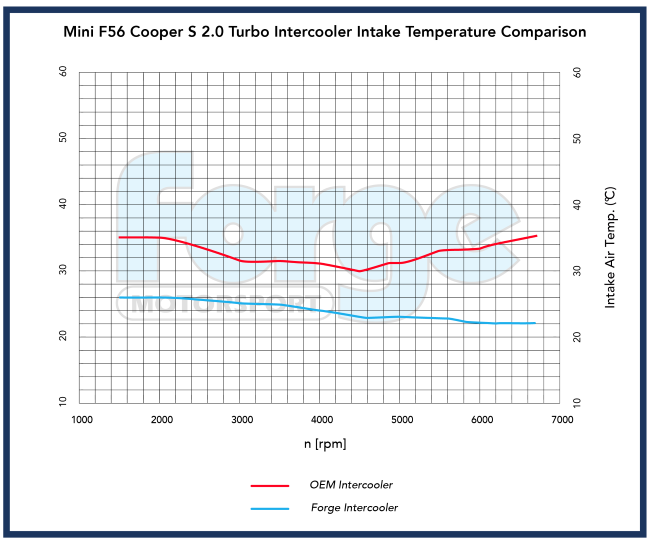 Official supplier to www.minichallenge.co.uk
The Forge F56 JCW gives a respectable 123% increase in frontal area.
CNC machined couplers to ensure a precision fit to the OEM Hose couplers.
Supplied with all fitting hardware, no additional purchases necessary
This is designed as a direct replacement for the OEM and requires no cutting of bodywork etc.
This product is designed, developed and manufactured entirely in Great Britain and is covered by our Worldwide lifetime warranty.
Again Forge Motorsport are first to market with a full range of for the Mini (Petrol) F56 Turbo range, 1.5 Turbo Cooper, 2.0 Turbo Cooper s and 2.0Turbo JCW.
Please Note:

In line with our policy to constantly review, revise, and improve our product range, the appearance of the product you receive may differ from the one advertised.
Product Reviews
Product Reviews
from on
Oct 13th 2020
A big installation (3 to 4 hours) which went very well. By taking your time, everything went well. Changing the original intercooler was a very good decision. With the Forge intercooler, the air density is much better and offers superior performance. Combine this with the air intake and hardpipe and you have an excellent trio. From a fuel consumption point of view, we're talking about a 15% gain here, which is not negligible.
Want to leave a review?

Login Register FREE!
Compatible Vehicles
Instructions
Forge Uprated Intercooler for Mini F56 1.5 Turbo
Warranty
Warranty Infomation
All Forge Motorsport products come with a limited lifetime warranty. All warranty claims must be accompanied by the original proof of purchase to enable us to help you. Failure to supply this proof will result in your claim or enquiry being denied.
For further information, please call our customer service team on +44(0)1452 380999 or email info@forgemotorsport.co.uk.
Do not use aggressive (acidic) car cleaning products, particularly traffic film remover solutions or shampoos to clean your intercooler, radiator or oil cooler. The use of these products can damage Forge Motorsport cooling systems and invalidate your warranty. These are often found at car washes. A light, warm, soapy solution (free of harsh acidic cleaning compounds) should be used to clean you cooler and thoroughly rinsed away. We recommend that you should inspect your product on a regular basis for bent and/or crushed fins. Any bent fins should be carefully straightened to allow ambient air to pass through the core face. At the time of installing your Forge radiator, an approved coolant must be used and added to the coolant system. Be sure you never mix coolant and always use distilled water.
Shipping
Shipping
Please fill out your details below
We use Mailchimp as our marketing automation platform. By clicking submit to this form, you acknowledge that the information you provide will be transferred to MailChimp for processing in accordance with their Privacy Policy and Terms.