Description
Product Description
*Please note - This will not fit Audi S3 facelift 2017 onwards*

After over a year in our R&D department finalising the design, fit and finish, Forge Motorsport are proud to present a carbon fibre intake for the latest 1.8 and 2.0 TSI EA888 engines. It combines a highly unique, desirable and attractive look with an ability to offer real-world horsepower increases. Although the VW/Audi group got their intake pretty good, we were able to force feed even more cold air into our intake by running it the full width of the slam panel, and exploiting the cold air ducts that VW/Audi put in from the factory, but don't use.
The genuine carbon fibre is finished in high gloss, this results in a true premium product for your car which far exceeds other intakes at the same price point, and embarrasses those priced even higher.
It offers greater sound from the engine, particularly when on boost, and our product testers have reported a more responsive throttle too. The filter element itself is provided by Pipercross, and is fully serviceable or replaceable if necessary. In our testing, it was the only filter type that was able to offer adequate filtration to the engine, whilst still being capable of flowing enough air to offer an increase in horsepower and torque.
The kit comes complete with everything you need for installation, which can be carried out in around 30 minutes, including a set of full colour instructions.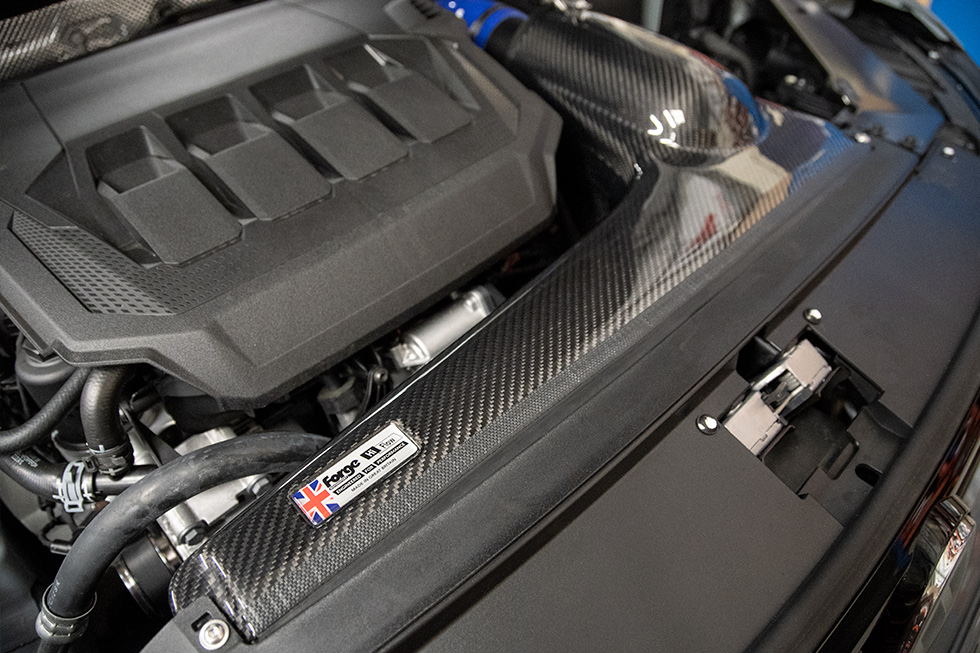 Some VW Golf Mk7's have a secondary air intake pipe connected to the side of the stock airbox. If you have an aftermarket intake kit that does not cater for this, then simply fit our secondary air flow kit to the end of the pipe to allow the air to be filtered. The secondary air intake pipe can be seen in the below image.
PLEASE NOTE: WE ADVISE FITTING THIS PRODUCT WITH THE INLET HOSE TO HELP EASE OF FITMENT. PLEASE SELECT FROM THE DROP DOWN MENU.*Please note - the Pipercross filter is excluded from the Forge lifetime warranty*
Please watch our video on how to fit an air filter without damaging it.

Please Note:

In line with our policy to constantly review, revise, and improve our product range, the appearance of the product you receive may differ from the one advertised.
Product Reviews
Product Reviews
from on
Mar 28th 2020
I was looking forward to this intake for awhile and couldn't be happier. It looks and sounds amazing! The carbon is beautiful and the red silicone hose looks so good in the engine bay. Throttle response is way better and the turbo spools quicker! Definitely the best bang per buck intake on the market! Best priced carbon intake with the duck included! Thanks again and i look forward to getting more forge parts! - @darkmk7
from on
Apr 12th 2018
Installed this intake on a stock tuned vehicle. I'm actually very impressed with the how responsive the car is now!! The factory air box only pulls in from the passenger side of the grill, and with this intake kit, air is being sucked in by the whole width of the grill.
Great product, customer since 2009
from on
Aug 5th 2016
I just installed this intake and I have to say I was impressed with both the fitment and the instructions. Everything went smoothly and it looks great. I also like the subtle increase in sound under acceleration.
Want to leave a review?

Login Register FREE!
Compatible Vehicles
Instructions
Carbon Fibre Intake Kit for EA888 GEN 3
Warranty
Warranty Infomation
All Forge Motorsport products come with a limited lifetime warranty. All warranty claims must be accompanied by the original proof of purchase to enable us to help you. Failure to supply this proof will result in your claim or enquiry being denied.
For further information, please call our customer service team on +44(0)1452 380999 or email info@forgemotorsport.co.uk.
Do not use aggressive (acidic) car cleaning products, particularly traffic film remover solutions or shampoos to clean your intercooler, radiator or oil cooler. The use of these products can damage Forge Motorsport cooling systems and invalidate your warranty. These are often found at car washes. A light, warm, soapy solution (free of harsh acidic cleaning compounds) should be used to clean you cooler and thoroughly rinsed away. We recommend that you should inspect your product on a regular basis for bent and/or crushed fins. Any bent fins should be carefully straightened to allow ambient air to pass through the core face. At the time of installing your Forge radiator, an approved coolant must be used and added to the coolant system. Be sure you never mix coolant and always use distilled water.
Shipping
Shipping
Please fill out your details below
We use Mailchimp as our marketing automation platform. By clicking submit to this form, you acknowledge that the information you provide will be transferred to MailChimp for processing in accordance with their Privacy Policy and Terms.