Description
Product Description
These spacers are suitable for many Hyundai vehicles, but please check the compatibility list here or contact us to confirm fitment.
These wheel spacers are available in 3mm thickness with a 67.1mm bore and 5 x 114.3mm PCD stud bolt pattern. The Forge spacers can give a maximum of 6mm increase in track width.
To fit the stock Hyundai Kona N, Hyundai, i30N MK3.5 Facelift, and the Hyundai Veloster N 2021- wheels over the Forge brake kit, these spacers are required and are included in the kit when purchased. The development team here at Forge Motorsport found 3mm to be the perfect distance to allow clearance between the spokes of the alloy wheel and the brake calliper, whilst still safely securing the wheel to the hub with the stock wheel nuts.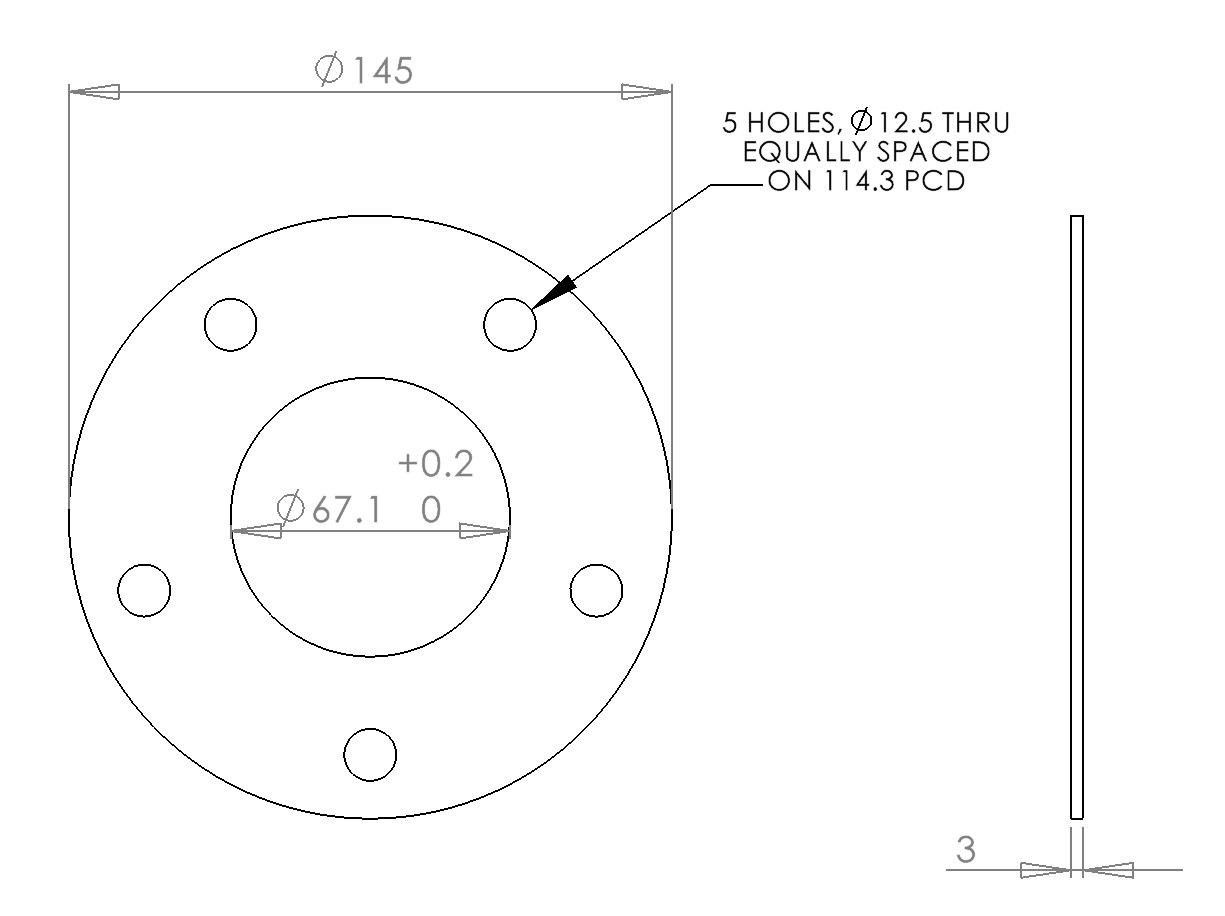 Manufactured in the UK and anodised black to inhibit corrosion and 'bonding' to the wheel or hub. All Forge wheel spacers are manufactured from 6082 alloy. Before fitment, please ensure the spacer fits flat to the back of the wheel. Please also test for clearance after fitment at the wheel arch under full right and left wheel lock.
These are sold as a pair. Extended wheel bolts are not supplied. Although these are not hub centric spacers, the hub protrudes past the spacers centre bore allowing your wheel to safely sit onto it.
In the Box:
2 x Wheel Spacer
1 x Forge Sticker
Please Note:

In line with our policy to constantly review, revise, and improve our product range, the appearance of the product you receive may differ from the one advertised.
Product Reviews
Product Reviews
Be the first to review this product
Want to leave a review?

Login Register FREE!
Compatible Vehicles
Instructions
3mm Wheel Spacer for Hyundai i30N, Veloster N, Kona N, Elantra N, & More
Warranty
Warranty Infomation
All Forge Motorsport products come with a limited lifetime warranty. All warranty claims must be accompanied by the original proof of purchase to enable us to help you. Failure to supply this proof will result in your claim or enquiry being denied.
For further information, please call our customer service team on +44(0)1452 380999 or email info@forgemotorsport.co.uk.
Do not use aggressive (acidic) car cleaning products, particularly traffic film remover solutions or shampoos to clean your intercooler, radiator or oil cooler. The use of these products can damage Forge Motorsport cooling systems and invalidate your warranty. These are often found at car washes. A light, warm, soapy solution (free of harsh acidic cleaning compounds) should be used to clean you cooler and thoroughly rinsed away. We recommend that you should inspect your product on a regular basis for bent and/or crushed fins. Any bent fins should be carefully straightened to allow ambient air to pass through the core face. At the time of installing your Forge radiator, an approved coolant must be used and added to the coolant system. Be sure you never mix coolant and always use distilled water.
Shipping
Shipping
Please fill out your details below
We use Mailchimp as our marketing automation platform. By clicking submit to this form, you acknowledge that the information you provide will be transferred to MailChimp for processing in accordance with their Privacy Policy and Terms.