Description
Product Description
This kit is suitable for the Hyundai I30N and Veloster N, as long as they are fitted with 18 inch or larger wheels. This kit has 6 pot calipers and 356 x 32mm ventilated discs. The discs are grooved to remove braking residuals and maintain optimum performance. Included in the kit are Forge braided brakes hoses, mountings, and Brake pads.
This part has been developed in conjunction with our work on the BTCC championship winning Hyundai i30N's - read more here
This kit will fit the standard i30N wheels without the need for spacers - This will not fit the i30N facelift
This brake kit is supplied with either our Forge Ceramic Brake Pads (FMBKPAD) or EBC Yellow Pads. For further information on EBC pads please see EBC website.
Depending on your wheel design, you may need spacers between the hub and the wheel in order to clear the calipers.
These kits do not have CE/TUV approval and are recommended for race use only
Each Caliper weighs 3.25kg
Each Disc weighs 9.35kg
Torque Settings:
Carrier to Hub 190-200NM
Caliper to Carrier 130NM
Please Note: Forge Motorsport or its resellers will not offer any warranty or replacement if brake vibration, abnormal pad wear, caused by uneven discs which has resulted after poor and incorrect installation.
Download our guide on how to clean and maintain your Forge Motorsport Big Brake Kit
Colour Code:
Dark Blue- ZAK Beam Blue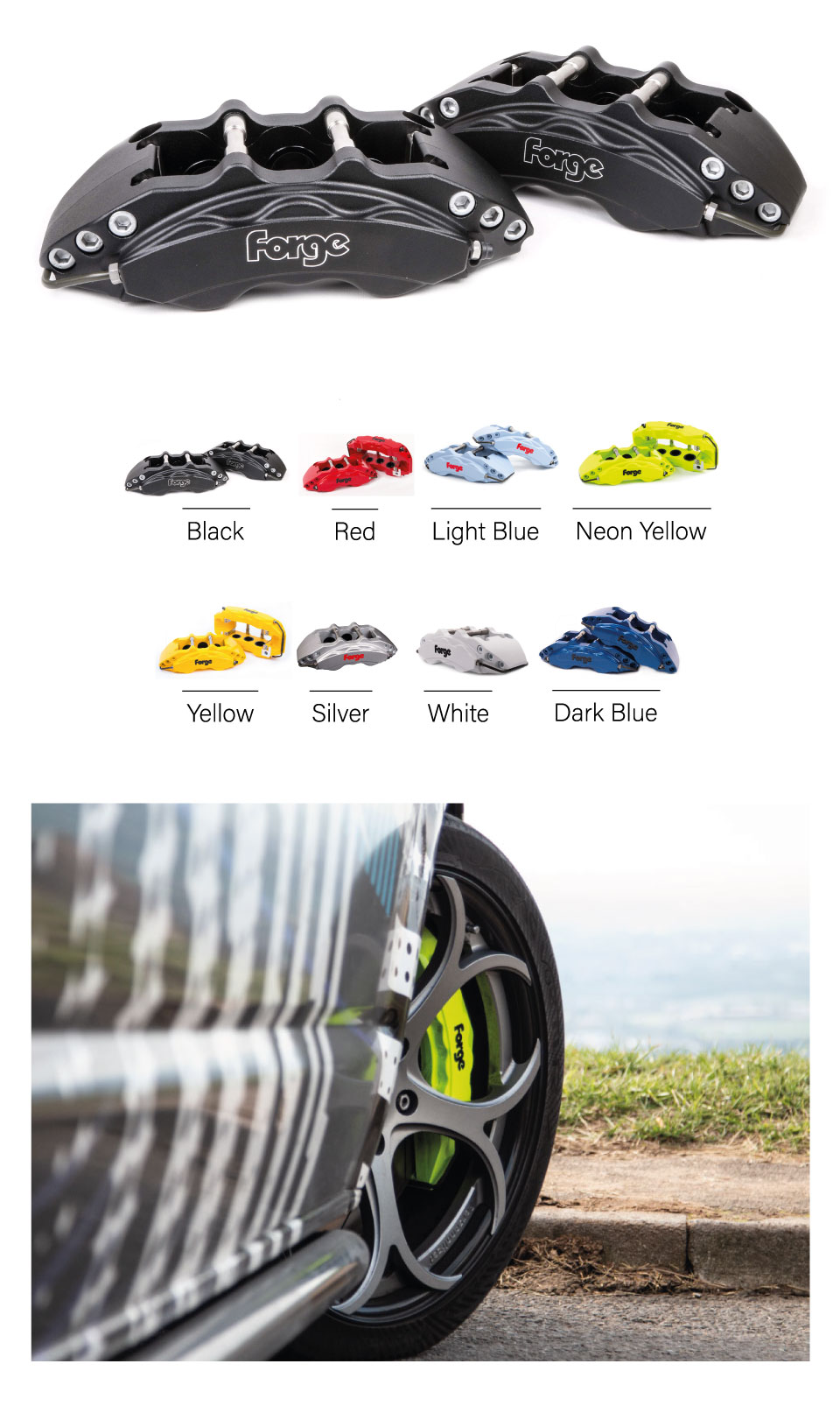 Please Note:

In line with our policy to constantly review, revise, and improve our product range, the appearance of the product you receive may differ from the one advertised.
Product Reviews
Product Reviews
Be the first to review this product
Want to leave a review?

Login Register FREE!
Compatible Vehicles
Instructions
356mm Front Brake Kit for the Hyundai I30N/Veloster N
Warranty
Warranty Infomation
All Forge Motorsport products come with a limited lifetime warranty. All warranty claims must be accompanied by the original proof of purchase to enable us to help you. Failure to supply this proof will result in your claim or enquiry being denied.
For further information, please call our customer service team on +44(0)1452 380999 or email info@forgemotorsport.co.uk.
Do not use aggressive (acidic) car cleaning products, particularly traffic film remover solutions or shampoos to clean your intercooler, radiator or oil cooler. The use of these products can damage Forge Motorsport cooling systems and invalidate your warranty. These are often found at car washes. A light, warm, soapy solution (free of harsh acidic cleaning compounds) should be used to clean you cooler and thoroughly rinsed away. We recommend that you should inspect your product on a regular basis for bent and/or crushed fins. Any bent fins should be carefully straightened to allow ambient air to pass through the core face. At the time of installing your Forge radiator, an approved coolant must be used and added to the coolant system. Be sure you never mix coolant and always use distilled water.
Shipping
Shipping
Please fill out your details below
We use Mailchimp as our marketing automation platform. By clicking submit to this form, you acknowledge that the information you provide will be transferred to MailChimp for processing in accordance with their Privacy Policy and Terms.